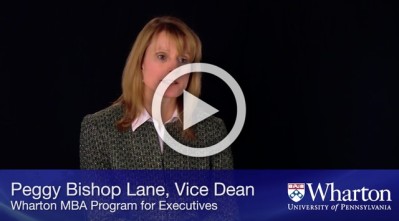 Wharton EMBA students have many opportunities for international study whether it's through on-campus courses, Global Modular Courses, or Global Business Week. Here's an edited transcript of a video with Vice Dean Peggy Bishop Lane discussing some of those opportunities:
One of our most popular [curriculum innovations] is the Global Modular Courses [GMCs]. These are opportunities for students to get out of the U.S. environment and learn about a topic in another country. There's one around conflict resolution in Rwanda, which students come away from saying that it's life altering. And then building on that in [terms of] innovation, we had some San Francisco students come back from the Rwanda GMC last year and start an independent study project to create a not-for-profit organization in Rwanda. It is really just stunning to watch those kinds of innovations happen.
The main difference between the GMCs and the Global Business Week course is that the Global Business Week is a course just for EMBA students. In the GMCs, EMBA students are there with the full-time MBAs and juniors and seniors from the undergraduate program as well. I've heard from students they really enjoy that opportunity to mix across the populations. They not only expand their network, but they gain an appreciation for the students in the other programs and vice versa.
This year, we have 12 or 13 Global Modular Courses plus our four Global Business Week courses. So, we're really getting a nice array of opportunities for the students.
To view the full video about international study options for EMBA students, click here.
To view a related video about collaboration between the Wharton EMBA cohorts, click here.
To view a related video on mixing East and West Coast classes, click here.
To view a related video on entrepreneurship at Wharton San Francisco, click here.