An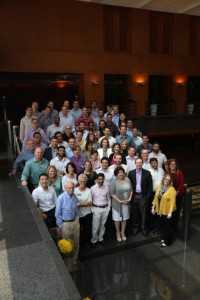 important capstone of Wharton's EMBA program is the International Seminar trip, which provides an opportunity for students to see first-hand how their learning applies in an international setting. This year, second-year students on both coasts could choose from four trips: Indonesia, South Africa, Spain and an entrepreneurial/VC focused one in San Francisco. Wharton Prof. Steve Kobrin, an emeritus professor of multinational management who previously taught in the full-time MBA program, led the international seminar trip to Indonesia.
Q. Why do you think the International Seminar trips are such an important part of students' experience in the EMBA program?
Because they allow students to think about the problems they've been studying in their prior classes in a new light. For example, during a bank visit, we saw how financial institutions operate in a country like Indonesia, which is very different from the U.S. We saw what strategy means here and what it means to work with the government.
Another reason why the trips are so valuable is that Wharton EMBA students bring so many different perspectives to the table. In Indonesia, we had about 60 students from both coasts and they represented a wide variety of industries. By way of example, we had someone who works in the White House, an orthopedic doctor, a global strategy consultant, a manufacturing marketer, and a Moscow-based venture capitalist. Having that diversity enhances the learning because students' questions are so different.
Q. This international seminar was your first experience with EMBA students. What did you think?
I was impressed with the executive MBA students because of their maturity and commitment to their education. They were very engaged in learning and asked intelligent questions. They also brought their own experiences to the trip. Many have expertise in the same industries as the speakers so they were able to interact with the speakers more as peers, which was an enriching dynamic.
I also want to note that I was impressed by what Wharton means in Indonesia. We had a very positive reception and it was clear that the Wharton name means a great deal there.
Q. What did you hope students would get out of the trip to Indonesia?
I wanted them to get an appreciation for the problems facing Indonesia and a better understanding of its development challenges. For some students, this was their first on-the-ground experience in an emerging market. Indonesia is unique in that it's the largest Muslim country in the world. We made sure to show students a variety of industries as well as aspects of the economy. For example, one afternoon we visited a development project where the government is attempting to relocate squatters to reclaim a reservoir. We talked to the people living there about their challenges as well as the deputy mayor of North Jakarta.
Q. What were some of the highlights of your visit to Indonesia?
Through the Tonato Foundation, a sub-group of students, Prof. Regina Abrami, and I went on a two-day trip to Sumatra where we visited palm oil plantations and one of the largest integrated pulp and paper manufacturing plants in the world. That was phenomenal. Another highlight was meeting the vice president of Indonesia, who is a Wharton PhD alumnus. On our first day in Indonesia, we visited his palace and met with him to discuss the country and its challenges. It was a very substantive session.
We also heard speakers from a wide range of industries and sectors in Indonesia. We talked to leaders at tech firms, the head of the American Chamber of Commerce in Indonesia, and an executive at Freemont Mining as well as people in public policy and a journalist.
Q. Did you have an opportunity to meet Wharton alumni in Indonesia?
Yes, we had an evening session with about 25 Wharton alumni. It's interesting how these international trips illustrate the strength and breadth of Wharton's alumni network. It's through the School's global contacts that we are able to set up visits and meetings with such high-level and knowledgeable business and government leaders.