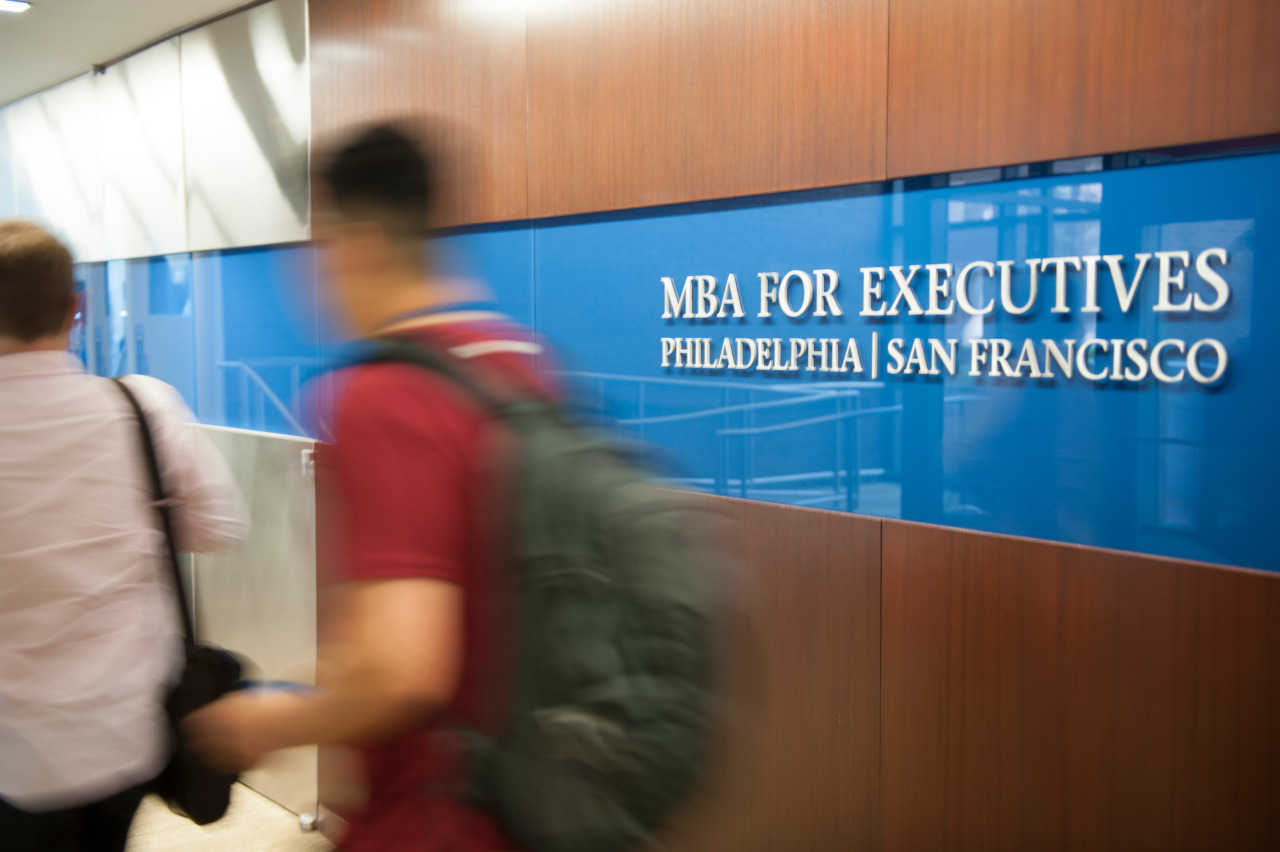 The Round 2 deadline for Wharton's MBA Program for Executives is less than a week away, but there's still time to get your application in.
"If you're applying for Round 2, the deadline is Tuesday, the 7th of February at midnight, and we want people to know we don't shut the system off. If you're submitting and something goes astray, please don't stress out. We'll talk to you on the 8th," said Director of Admissions Diane Sharp.
She says the key to getting your application together in time is to set up an interview on campus and talk to your employer about sponsorship as soon as possible.
"I've been doing this a long time and it can be done if you take those steps," Diane said. "You should reach out to either the Philadelphia or the San Francisco campus to chat with Barb (Craft) or myself to discuss the viability of you getting through this round. If not we can answer your questions about applying next year."
Diane recently hosted a Facebook Live Q&A with Admissions and Event Coordinator Alicia Rogers, fielding questions from viewers about the application process and the Wharton EMBA experience.
In case you haven't had the chance to watch the entire Q&A, we've highlighted six topics they covered that you don't want to miss.
1. Get Buy-In from Your Company First
When you apply to Wharton's MBA Program for Executives vs. our full-time MBA Program, you need to get buy-in from your company because of the schedule which is, for the most part, Friday morning to Saturday afternoon every other week. Mainly, you'll need to be out of the office every other Friday.
"That means you need a letter of sponsorship from someone in your company who has the authority to sign a letter saying, we're comfortable with the individual applying, we understand the calendar, and we'll make sure this individual can get to Philadelphia or San Francisco every other week," Diane said. "The distinction often comes on how much financial support you're getting from your company."
It's important to have a conversation with your company to start building your sponsorship. "Of the 120 students in Philadelphia and the 110 in San Francisco, we pretty much see a different scenario for every individual (in terms of sponsorship)," Diane said. "It's a mix." Some students don't receive any financial support, some people get an average of $50,000 to $52,000 a year, and some companies pay for the entire program.
2. Take the GMAT (It's Not Too Late)
Is it too late to apply to the program if you haven't yet taken the GMAT? "It's really going to depend on how rusty you are," Diane said. "There is a little leeway in sending your official scores with the application. As you know, the deadline is February 7, but if one or two pieces of your application aren't quite ready, we can work with you to talk about extending it a bit, so don't hesitate there."
If you haven't yet, you can go to MBA.com where you can take GMAT practice tests so you can get a better idea of where you stand.
"Once you have a tentative score — it doesn't have to be official — get in touch with us so we can gauge your viability," Diane said. "The average score is 700, but the GMAT has four sections that we value differently so we want to look at the breakdown to really understand how competitive your application will be."
Make sure to have your transcripts available too because the Admissions team will be able to judge the viability of those as well.
3. Tap Into New Resources to Navigate Your Career
When asked about career placement after the program, Diane talked about the many resources available through EMBA's Career Services.
"We have a career services director in Philadelphia and San Francisco so it's as if all the students have a personal career coach," she said. "Steve and Dawn, the career directors, choose to not use the word 'placement.' They're not placing you in a new job — they're teaching you how to navigate your career (and) giving you the tools to do so for the rest of your career."
Diane explained that placement on any campus is for full-time MBA programs because they're sending 800 students a year out into the world and they need jobs. "The recruiters that come here are looking to those MBA students. Executive MBA students are already beyond that when they start the program," she said. "What you're doing is learning how to use the Wharton network. That's what you're investing in."
Career Services can connect you with someone who has done what you've done and to someone who is now doing what you want to do. Our 95,000-strong alumni network gives you the chance to explore different options and make new connections. "It's a process that gives you the power to do that," Diane said.
4. Join a Global Community in the Classroom
One viewer asked if Wharton's EMBA Program entertains international candidates. "Absolutely, we feel that really adds to the conversation," Diane said. "We have a really diverse group of people in every class."
You'll find a global community in the classroom, with a third of your colleagues coming from cities all over the world. Currently, one of the first-year students is flying in from London and a second-year is making the trip from Moscow. Students in the past have commuted to campus from Hawaii, Peru, and even South Korea. "They use that airplane time really wisely to do all their studies," Diane said.
"Every year we're really appreciative of those individuals," she said. "The reason they come is that they look around, they know they want a top-tier MBA, and there's really nothing else on the market that will give them what they need and they're willing to spend a couple years with us."
5. Take the Opportunity to Specialize Your Studies
If you're looking to further specialize your studies, Wharton's EMBA Program gives you 50 electives you can choose from in your second year. "We do not require our students to major, which is one difference between us and other programs," Diane said. "We feel that our students already come with a specialization so they aren't here to make that deeper, they're here to get those strategic tools to run a business, move up to the C-suite, whatever it is you want to do with your EMBA."
That being said, there are a variety of departments you can major in: marketing, finance, operations, management. "We just say, take what you're passionate about," she said.
6. Get to Know the Global Market Through International Learning Opportunities
You can immerse yourself in the global business market through a number of international learning opportunities in Wharton's EMBA Program.
The Global Business Week is available exclusively to EMBA students at Wharton. "(You take it) in your third semester, the fall of your second year," Diane said. "You get to pick one of four, sometimes five, places to travel to and to study. That's more of an international strategy type course."
You can also take one of our Global Modular Courses, which are also open to full-time MBA students. The topics and locations of these courses give students firsthand exposure to business challenges and opportunities in regions undergoing rapid change. "They're offered for a week or so in a foreign city like London or Dubai, and you cover topics like marketing in China or health care in India, energy in Brazil," Diane said.
If you're interested in a longer-term immersion, you can also participate in the Global Consulting Practicum. This unique cross-functional course pairs Wharton students and faculty with teams from partner universities around the world to consult with a client company that is interested in entering or expanding its position in the U.S. or other world market.
"It's over a semester long — 1.5 elective credits — so it's a big undertaking, but it's a way to get international exposure and some consulting experience if that's important for you," Diane said.
Still Have Questions?
Get in touch with us or visit the EMBA Admissions page for additional resources about managing the application process.