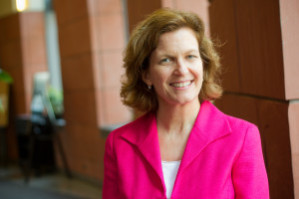 Like many members of Wharton's EMBA admissions team, Diane Sharp has spent the majority of her career at Wharton. After working as a corporate recruiter in the insurance industry, she joined Wharton's full-time MBA admissions staff in 1989 before moving to Mexico and later transitioning to the EMBA program. In her current role as director of admissions for the executive MBA program in Philadelphia, she spends much of her time interviewing students and hosting information receptions throughout North America.
Q. What are your main roles as director of admissions for the Philadelphia EMBA program?
I recruit students for the East Coast program, which involves evaluating applications, interviewing candidates and connecting them with current students and alumni. I want our students and alumni to be part of the process to help applicants understand what the program is all about and whether it's a good fit for them.
Q. What advice do you give applicants going through the admissions process?
My biggest advice is to schedule your interview sooner than later. Many people think they need to have taken the GMAT or have secured sponsorship from their company before they come for an interview, but all they need to send before the appointment is their resume. The interview is a time for us to learn about you, but it's also time for you to have a one-on-one conversation with a member of our Admissions Committee. We can help you better understand if this program is right for you as well as share advice on how to discuss sponsorship with your organization. Don't wait to hit the submit button on the online application or for your official GMAT score. Go ahead and contact us to schedule that interview and class visit.
Q. How should students prepare for the in-person interview?
Expect a two-way conversation. We want to make sure you understand what is needed to be successful in this program and see what you'd bring to the community. It's really about putting a face to your file so make sure to highlight your strengths. Start your online application so that you can see what we're asking and bring any questions you have about the admissions process or the program to the conversation. Also, plan to spend as much of the day here as possible so that you can attend class and join students for lunch.
Q. What do you recommend for applicants who don't have a quantitative background?
We don't have any set expectations of what your background should be. People tend to think they know what we want to hear in an interview or see in an application. But, really, we just want to know your background and if it's not quantitative then it's better to discuss that with us sooner than later. Wharton values diversity and seeks people from all kinds of backgrounds, but we also can help ensure you are prepared for this program. Sometimes we recommend that applicants take college-level math courses or get tutoring, whether it's for the GMAT or for the actual quantitative coursework.
Q. What do you enjoy most about your job?
I never know who will walk in my door. I see an impressive cross-section of people who represent the global economy. I get to meet high achieving individuals and hear their stories. I've met everyone from a local Philadelphian who struggled financially to earn her bachelor's degree to a Colombian international development banker to an Iranian PhD civil engineer.
Q. What is the most challenging part?
Making sure that candidates understand that just because they don't see themselves in the typical statistical profile of a Wharton class, it doesn't mean that they shouldn't consider the Wharton EMBA program. In fact, it's the opposite — Wharton is for anyone who wants the best MBA education possible without jumping off their career.
Q. Between the time you worked in the full-time MBA office and joined the EMBA program, you lived in Mexico. What was that experience like?
It was wonderful. Both of my sons were in diapers when we arrived, so they grew up bilingual. I was a French major so I was able to learn Spanish quickly and I immediately fell in love with the Latin culture.  We lived in Mexico City for four years and during that time, I occasionally worked for Wharton helping at information receptions in Mexico and interviewing local applicants. I also spent a lot of time managing my kids' soccer teams. I joke that I brought the soccer mom phenomenon to Mexico when I introduced the concept of the snack schedule. I'm thrilled that we get enough interest from applicants in Mexico who are considering either the Philadelphia or San Francisco campus that it allows me to host EMBA recruiting events there.
Q. What else might surprise students about you?
I was an Air Force brat, which I think set me up to want to explore the world, so I earned an international MBA degree in human resources. My husband is a music teacher and retired Mummer. Our youngest son is going to be a senior in Penn's Engineering School and our older son is an AmeriCorps volunteer who will be transitioning to the Peace Corps. My mother is a Quaker, so she likes to take credit for me working at the University of Pennsylvania.