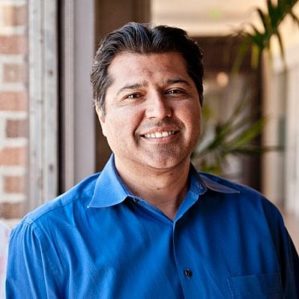 Students in Wharton's MBA for Executives Program have many resources when it comes to career management, including a dedicated director on each coast. In San Francisco, that director is Steve Hernandez.
We recently asked Steve to tell us more about what's happening in career management at Wharton San Francisco. Here is what he said:
A Holistic Approach
Our focus is on partnering with students to identify where they want to go in their careers and helping them form a strategy to get there. We facilitate interactions with employers, innovators, and alumni to help formulate that exploration and strategy.
It's not about getting the next job, but building a strategy for a long-term career. On the West Coast, this often involves building bridges into new communities. It's a holistic approach to career management.
Building Bridges
To help build bridges into those new communities, we bring a diversity of companies to campus throughout the year. Unlike traditional on-campus recruiting, we only bring one company at a time to campus. The company representatives aren't recruiters, but rather senior-level executives who are often Wharton alumni. During these sessions, they talk about their business model, product, strategy, and career opportunities.
Students can see direct applications of what they are learning in school at that company and also get a better sense of whether it may be a good fit for their career goals. In addition to bringing companies to campus, I organize field trips to local innovators, incubators, and accelerators. (The field trips happen during the week, not during class weekends—that's when we do the on-campus stuff.)
We also hold an annual Career Conversations event. This happens on both coasts, and involves bringing in about 50 alumni to each campus from a diversity of industries to meet with students interested in those areas. It's like a speed mentoring program in that each student meets with 2-3 panels of alumni in a selected vertical for 30-minute sessions and then we have a big networking event afterward.
Another opportunity to build bridges is our annual three-school networking event, which we cohost with Stanford and Berkeley. We invite 30 of the top companies in the Bay Area to network with interested EMBA students from the three schools.
Career Day
Our program on both coasts holds Career Days, which are full days of career management programming. We hold a Career Day once in each year of the program. The first Career Day focuses on things like self-assessment and career exploration to help students think about their long-term goals.
The second Career Day is a follow-up to that and focuses more on job search strategies. It's for second-year students and is a day to focus on areas like interview logic, advanced resume writing, mock interviews, and case preparation.
EMBA vs. Full-time MBA Career Management
Our approach to career management is very different from the full-time MBA program. Our students aren't typically looking for the types of jobs available through on-campus recruiting. Most are mid-career executives who bring a decade or more of experience to the program and are looking for higher-level positions.
While many of our students are looking to change functions or even industries, they still want to leverage their prior experience going forward. Of the 50 percent of students in our program who change jobs, nearly 30% make a pivot, such as moving into a different function within their current company or within a parallel industry. It tends to be a more strategic change.
Entrepreneurship
We do have students looking to make a complete career change through starting a venture. There is a lot of interest in entrepreneurship on both coasts, but it's part of the ecosystem in the Bay Area. I work closely with our director of entrepreneurship in San Francisco to help students assess their entrepreneurial DNA.
The question is whether they should start their own company, work for a growth type of company or a startup. I help them figure out where they fit best based on their values, strengths and long-term goals.
This year, we're hosting a Startup Expo on April 8 on campus. We've invited 40 EMBA students from Wharton San Francisco, 40 students from the full-time MBA program in Philadelphia, and 35 of the hottest startups that are hiring in the Bay Area to campus. This will be a very high impact event.
Action Groups
In each class, we organize job search action groups. These are smaller groups of students who are actively looking for a new job and want to work together to drive results. We talk about issues like job search strategy; gaining access to decision-makers; networking and brand strategy; and writing a high-impact resume. We take all the content for a job search and approach it like a case. We meet weekly so there is constant feedback as well as accountability. In the last session, we had seven participants and five of them had job offers by the end of the session.
For students who are seeking a promotion within their company, we have a Career Advancer Group. This group meets four times in a month to discuss things like strategy and building a brand within your company.
Whether they are in the career exploration stage or actively seeking to make a transition, we offer a lot of programming and support for students on both coasts.
Related Content