Many women interested in applying to Wharton's EMBA Program may be wondering how they will balance work, life, and school. It is a challenge, however alumnae say it is not only doable, but very worthwhile.
We asked Raynelle Grace, WG'15, senior manager of corporate strategy at Vanguard and founder/CEO of Abex Systems, and Rachel Cervantes, WG'11, senior director of business development at Egalet Corp., to tell us more about their experiences as women in the EMBA program. We made a video of their answers. You can read the transcript below.
How did being a woman affect your decision to apply to Wharton's EMBA Program?
Raynelle: It affected my decision process because I had just gotten married and thought investing in my marriage should be my priority. I was at an age where I should be thinking about having kids. I had to think about the timing of getting married, having kids, and running a small company. But I talked to my husband about how I had always wanted to go to business school and how it would be a good investment in our future together. Ultimately, it was the right decision for us.
Being a woman was also a motivational factor for me to apply because I wanted to be a face for women that we can be in an EMBA program and do well at work – it's not just for men.
Rachel: I was considering how I would balance work, life, and school. It's not to say that women are the only ones who think about that balance, but women – especially mothers – definitely place some importance on being able to balance their home life with their professional careers. I talked to my husband and work to make sure everyone knew that Wharton would become an equal part of my life. That was critical to trying to balance all three of those aspects.
What support system did you have in place while attending the program?
Rachel: When I decided to attend Wharton, I made sure that I had the right support structure around me to not only ensure my success, but also the success of the people who relied on me prior to Wharton. That meant asking for help, which is something that women aren't always comfortable doing.
But if I wanted my work to continue to succeed, then sometimes I had to approach my boss and tell him when I couldn't complete a task within a certain amount of time and provide alternative solutions. And if I wanted my children to continue to succeed, I sometimes had to ask a friend to watch my kids or pick them up.
Raynelle: I'm all about outsourcing. I outsource the cleaning of my house and cooking. We order food in. I treat my life like it's part of a business.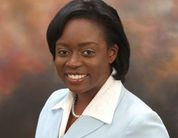 What advice would you give to women applying to Wharton's EMBA Program?
Raynelle: Like the Nike ad says, just do it. If any part of you wants to apply, take the first step. The admissions staff was great in answering questions. They host recruitment events that you should go to and ask every question you can think of. And reach out to the alumni network. The staff can put you in touch with people who can help answer questions too.
Rachel: The program isn't easy. This is the Wharton School and they ensure that the EMBA program is the same quality as the full-time MBA program. But it is a worthwhile experience. For me, it was a pivotal, life-changing experience that I would do over and over again if I had the chance. Women sometimes hold themselves back because they know about the high caliber of the program and are concerned that at some point something in their life may suffer because of doing the program.
I would say: Don't hold back. If this is something you want, then go for it. I was able to successfully balance work, life, and school – and I'm not the first. There have been hundreds if not thousands before me. It is doable when you put the support structures together and communicate well with everyone in your life.
How did the MBA for Executives Program impact your career?
Rachel: This is such a rigorous program that you really understand where your potential lies when you come out of it. Wharton pushes you to the limits in a positive way. It tests your ability to think strategically, understand knowledge and apply it at work the next day, and it pushes you physically and mentally beyond what you've normally been able to do.
Raynelle: It changed my career substantially because of the knowledge, network, and name. In terms of knowledge, Wharton helped me with the small business I was running. If I had known many of things I learned at Wharton 10 years earlier, I would have run my business in an entirely different way. From the network standpoint, the other students are highly motivated, ambitious high achievers. That was motivating for me.
I formed lifelong friendships and worked with my classmates to take my business to a new level and also to integrate into my new job. From the name perspective, Wharton changed my career because I don't know that I would have gotten the interview at my new company without the Wharton name on my resume.
Related Content
Applying to the Program (Video)
Advice for Women Applicants (Video)