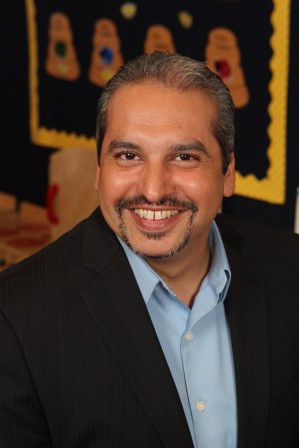 If you're interested in learning more about diversity at Wharton's EMBA program, please join us for a special Diversity Night on Jan. 15, 2015 in Los Angeles. Alumni and students will share their experiences at Wharton during a panel discussion, and will be available to talk to prospective applicants afterward during a networking mixer. One of our panelists is César Bocanegra, WG'08, chief operating officer of DonorsChoose.org, a non-profit based in New York City. We recently talked to César about the impact of his Wharton education on his career and what diversity looks like at Wharton. Here's what he said:
My Diversity Story
I am a bicultural individual. Both of my parents are from Mexico and I was born in Los Angeles. So I consider myself Mexican-American. I lived in Mexico for 15 years and am assimilated in both cultures. I think that gives me the best of both worlds.
Before Wharton
I had been working at AT&T for 11 years. I wanted to attend Wharton because my mentor at AT&T was an alumna and she advised me to pursue an MBA to further my career. She also suggested Wharton's executive MBA program so that I could continue working. When I applied to Wharton's EMBA program, I was working in business sales in San Francisco, but when I became director of finance in New Jersey, I transferred my application to the Philadelphia campus and was accepted there.
A Major Pivot
I've always been passionate about education. My mom was a teacher and ran a kindergarten at our home in Mexico. Growing up, she had me tutoring kids with learning challenges so it became part of my life. I was always involved in volunteer opportunities to help kids get a better education. When I started Wharton's EMBA program, I had to give up that volunteer work so I could focus on work and school. But after two months, I was miserable. The turning point was when a high school senior asked me for help studying for the math part of the SAT, and I had to say no because I was studying for a test.
Afterward, I went to my mentor and said I was going to quit the MBA program. She completely surprised me when she suggested that I would be better off staying at Wharton, but looking for a nonprofit job that focuses on education. Suddenly, a light bulb went off. I started researching nonprofits to find one that would fulfill my passion and pay the bills. Through a listing on LinkedIn, I found a job posted at DonorsChoose.org for vice president of operations. My engineering background and my enrollment in Wharton's MBA program opened the door for an interview and I got the job. That happened six months after I started at Wharton and I've been at DonorsChoose.org ever since. It's a dream job.
Career Impact
I don't think I would have gotten the job at DonorsChoose.org if it weren't for Wharton. Because I was doing the Wharton EMBA program, I could sell my new skills and apply my learning at Wharton to my new job. I ended up doing three different projects on DonorsChoose.org, including a competitive analysis. That really validated the value of my Wharton education.
Preconceptions about Diversity
Before I came to Wharton, I had gone to a high school that was 98% Latino and then Caltech, which at the time had low diversity numbers. Then I went to MIT, which was bigger and had better diversity numbers. I wasn't sure what to expect at Wharton, but I assumed there would be some level of diversity because Penn is a bigger school. I also expected to find mostly finance people in my class given Wharton's reputation as a good finance school.
The Reality
The reality at Wharton was slightly different on all fronts. From an ethnicity standpoint, Wharton was still struggling to bring in qualified, diverse candidates. In my class, I was one of three or four Latinos. However, I was lucky because my study group was like a mini-United Nations. We had a German, a Nigerian, an American from New Jersey, an Indian, a Ukrainian, and me. We also had two women. The diversity on my team was rich and powerful, but my experience wasn't representative of the entire class.
The diversity at Wharton was more in students' work backgrounds. That part blew my mind. I was very surprised to see that kind of diversity in my class – we had doctors, lawyers, engineers, finance people, media folks, etc. There were people from all walks of life in terms of their work experiences.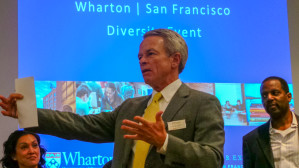 Challenges to Diversity
A lot of people hear the word diversity and think of race or ethnicity. If that is the definition then the reason business schools aren't more diverse is financial. When I talk to friends and colleagues who are underrepresented minorities about b-school, the majority wants an MBA and the top reason holding them back is the financial burden.
The other issue is outreach and awareness of what an MBA can really do for someone's career. Business schools haven't done a great job explaining the value proposition of an MBA degree, especially to underrepresented minority communities. The data is there – the value proposition exists.
I want to make sure there is a bigger effort in terms of outreach to change how people perceive Wharton's EMBA program and Diversity Night is a great opportunity. I'm looking forward to the networking part of the night so I can meet ambitious, high-caliber prospective applicants who want to move forward in their career and have had interesting challenges in life. I'm excited to talk about how their careers can be enriched with a Wharton MBA.
To register for the Jan. 15 Diversity Night in LA, click here.