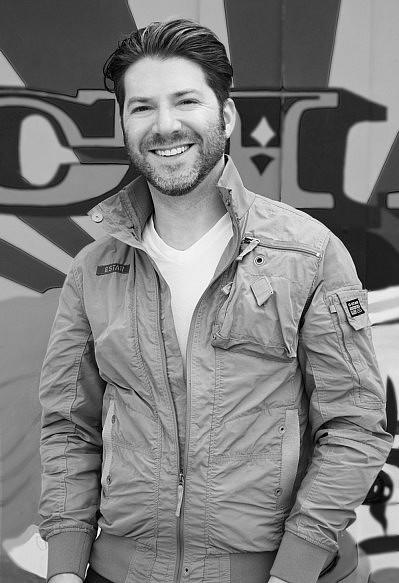 Andrew Gould (WG'11) came to Wharton's EMBA program to stay on the front lines of innovation. Recently, he was promoted to senior vice president of creative, North America at BMG Chrysalis in Los Angeles. As an alumnus in the music industry, Andrew talked to us about his time at Wharton and how his education is impacting his career. Here's what he said:
While I was a student at Wharton's East Coast EMBA program, I was working at EMI Music Publishing in the New York Office. When the head of the company asked if I would move to the Los Angeles office, it was a "no brainer" decision because it's the epicenter of pop music for the world.  I commuted from LA to Philadelphia for two semesters, but then took advantage of the ability to experience Wharton's San Francisco EMBA program. Fortunately, it was a seamless transition both logistically and academically.
At Wharton | San Francisco, I met a whole new crew of people and it was very cool to be in the Bay Area. Once I was in the classroom in San Francisco, there was no difference in the quality of education or fellow students. As you might expect, the main difference was that more of the student body had a tech background, and this came through in our in class discussions. It was great to work through course material (in and out of class) through a slightly different lens.
When I think back to the program, the biggest highlight was the people. Some of my closest friends were fellow students and even professors. And the staff members running the program were like my Wharton family because they took such great care of us. The workload was certainly heavy and the material challenging, but I would expect nothing less. You get through it with your friends.
As an alumnus in the music industry, I moved to BMG Chrysalis in August of 2012, where I was recently appointed senior vice president of creative. One of my main roles is signing and developing songwriter talent. Whether they're writing for their own artistry or for other artists, I help BMG clients make the best music that they can, and subsequently find homes for these songs.
While not in a traditional field for MBAs, I use my Wharton education every day. First and foremost, it taught me to ask the right questions so that I can make the best decisions. Additionally, during my two years at Wharton, I learned how to communicate in a very specific business language that I didn't know as well before. As for staying on the frontlines of innovation, my Wharton MBA has absolutely helped. I learned how to be flexible in running a successful business, which is completely necessary in an industry that is undergoing such drastic transformation.
I would not be where I am today without having come to Wharton's EMBA program. People ask me about my degree all the time. It gives me instant credibility and also speaks strongly about my work ethic. The education and experience also increased my confidence. Important decisions are easier to make, and I feel far more comfortable in leadership positions.
There aren't a lot of MBAs in the music industry, especially on the creative side. Having a Wharton MBA is a great differentiator. It's a powerful combination to be able to communicate in both abstract artistic and business terms. I would 100 percent recommend this program to others.
To read a blog by Andrew when he was a student, click here.
To read a related article about Andrew's recent promotion, click here.