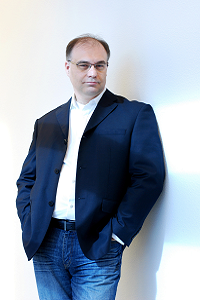 Alumnus Ivan Corneillet, WG'14, an entrepreneur in Silicon Valley, has taken about every type of elective offered in Wharton's MBA for executives program. With a goal to diversify his business education, he took traditional electives as well as Global Modular Courses and participated in the Global Consulting Practicum. As an alumnus, he's taking advantage of the ability to audit EMBA electives as part of Wharton's Lifelong Learning program. We asked Ivan to tell us more about his past and current electives strategy. Here's what he said:
My Electives Strategy
There are so many excellent electives offered at Wharton that it's hard to choose your courses. My goal was to be as versatile as possible and learn a bit of everything. I wanted to gain a 10,000-foot high view of many type of businesses yet still be able to dive deep enough so I could lead effectively at work by asking the "right" questions on specific issues. That really guided my course selection.
Choices
During our first year, our class voted on what electives we wanted to see offered. This resulted in a fantastic list of classes. The down side was that we only had time to take about a third of the list. I tried to take a balanced approach between quant and non-quant classes and between core-related classes and noncore-related classes. I especially wanted to take some challenging classes in which I had no prior experience to complement my work experience. When I had a tie between two electives and only time for one, I decided which one I needed first and which one I could audit after graduation.
Course Selection
I took an assortment of classes to be as well rounded as possible. I even took some out-of-the-box ones that were neither quant related nor core related. These included a Social Impact class with Prof. Katherine Klein in which I worked with founders of a social impact organization to refine their business case on providing cloud computing services to nonprofits, and a Total Leadership course with Prof. Stewart Friedman about integrating work and life. I also took some very quant-focused classes like Financial Derivatives and Investment Management. And then I took several domain specific courses like Entrepreneurship, Pricing Policy, Advanced Corporate Finance, Corporate Valuation, Technology Strategy, and Corporate Restructuring. After graduating and reflecting back on all this coursework, I am amazed at the knowledge concentration of all these electives. For example, I can have a rich conversation with VCs and can follow what is happening in the hedge fund industry.
Adding Perspective
To gain even more perspective, I took the Global Consulting Practicum (GCP) in which my team of Wharton and IE Business School students provided strategy consulting services for a European marketing automation startup. We crafted a go-to-market strategy through industry research, in-depth interviews, market segmentation analysis, and financial modeling. While challenging, the GCP gave our team an opportunity to work together closely for six months. The outcome was a very unified team; I still call them frequently for advice.
I also took two Global Modular Courses (GMC), which are one-week intensive courses. One was on web-based design course in San Francisco and the other was on supply chain management in Japan. Students in the GMCs include full-time MBA and EMBA students from both coasts. The Japan GMC class also coincided with the Wharton Global Forum in Tokyo, a lifelong learning event that provided me with an opportunity to discuss and learn about today's most pressing issues with some of the best minds in business. It greatly added to the perspective of the class.
Lifelong Education
The ability to continue auditing electives in Wharton's EMBA program for free is a great perk. It lets you take classes that you didn't have time for as a student or perhaps have developed a need to learn more about since graduation. It also allows alumni to get to know the current students, which really deepens your Wharton network. This benefit shows how serious Wharton is about lifelong education, and it adds that much more value to your investment.
For more information about course electives for Wharton's MBA for Executives Program, click here.