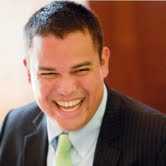 We invite you to join us at our inaugural Wharton Diversity Night on Thurs. Nov. 20 at our San Francisco campus. We'll be talking with alumni, students, admissions and career management staff about our EMBA program, and a panel of students and alumni will speak candidly about their experiences here. One of our panelists will be alumnus Amilcar Chavarria, WG'13, founder and CEO of FinTech Consulting in San Francisco. To learn more about his experiences with diversity at Wharton, we asked him a few questions in advance of the event. Here's what he said:
Realizing a Dream
I had a 10+ year career in financial services, but I came to Wharton to realize my lifelong dream of becoming an entrepreneur. I wanted to build a team of people from the Wharton community – advisors, cofounders, team members, etc. – and get the business acumen to run my own company. And if my own company didn't work out, I wanted an MBA from Wharton so that I would stand out in the financial services industry. As for the EMBA program, the opportunity cost of attending the full-time MBA program was too high. I also wanted to apply my learning to my startup in real time. I knew I wouldn't just be reading cases or working on spreadsheets in a vacuum. I'd be able to immediately apply my learning to my startup. Within six months of coming to Wharton, I left my job at an investment firm and launched my own FinTech startup.
Not a Homogenous Group
I expected to be the only Latino (I am originally from Nicaragua) and to be in a very homogenous group of students. I thought I'd be an outlier and that Wharton would probably fit the Ivy League stereotype. I was one of two Latinos; I had a female classmate from Peru. However, the class wasn't as homogenous as I thought it would be. I define diversity as the differences in how you overcome struggles. For me, my diversity story includes defeating the odds and immigrating from Nicaragua to the U.S. when I was 15, taking the SAT when English was not my first language, getting a scholarship for college, working several jobs while studying engineering, getting a Visa, working on Wall Street, and then obtaining a Green Card. But other people's diversity story might involve overcoming cancer or macroeconomic circumstances or starting their own company. At Wharton, I realized very quickly that my classmates were exceptional and very well rounded – and they all had their own diversity stories. They were not a homogenous group.
Diversity Is a Kaleidoscope
It looks like very talented people who are driven and who have overcome some sort of challenge or multiple challenges in their lives and have figured out a way to beat the odds. There's also another aspect to diversity – we are all trying to figure out where we can find better opportunities to make an impact with our skillsets. Diversity is a kaleidoscope and there are several different ways to measure it. It's not just about gender or skin color. When you look at the kaleidoscope at Wharton, you'll see these many different ways of viewing diversity. It's very palpable here.
Positive Change
There aren't enough women and minorities. In some cases, that may be due to standardized testing or affordability issues, but for many it's because they don't have role models who attended business school. I'm looking forward to the Wharton Diversity Night. I want to see more women and minorities apply as a result of that event. I want to see more representation from various groups who have different struggles in life – and I want to see their outcomes. I know it will lead to a positive change. I also want to share my experiences with others and encourage them to take the plunge and not think of tuition as an expense, but more as an investment.
To register for the Diversity Night on Nov. 20, click here.