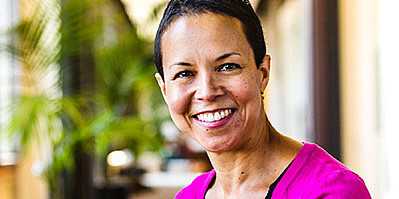 In a recent blog on Wharton's Mack Institute for Innovation Management's site, EMBA alumna Kelly Brown (WG'14), who is director of client relations at Morrison & Foerster LLP, talks about coming to Wharton's EMBA program to learn how to apply business practices to law firms. The following is an excerpt of that blog:
Fifteen years into her legal career, Kelly Brown could see that her industry had entered a period of rapid transformation. The legal landscape, she says, was "experiencing changes that were accelerating the need to innovate and transforming law firms into more complex businesses," and she wanted to place herself at the forefront of innovation in her field.
She came to Wharton's EMBA program to study how law firms could deliver superior value by adopting business practices from other fields, and in 2014 she received a Mack Institute MBA Research Fellowship to conduct market research in the legal industry.
Traditionally, the legal industry has been characterized by conservatism. However, as consumer centricity becomes increasingly prominent in the digital age, the world of law is not immune to disruption. In her study, Enter the Disrupters: How New Law Firm Rivals are Disrupting the Market for High-end Legal Services in the U.S., Brown examines the effects of globalization, technological innovation, and liberalization on the legal industry, particularly the risks innovation poses to existing players if they do not adapt and evolve.
Building on her research, Brown has now co-authored a new article that expands upon the initial findings and implications of her study.
To read the full Mack Institute blog, click here.