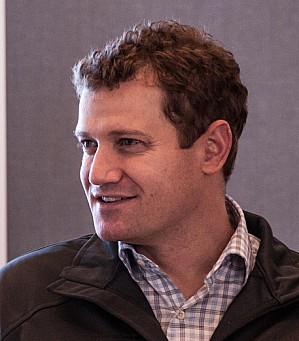 Zander Adell, WG'12, came to Wharton San Francisco's EMBA program to help him transition from artist to entrepreneur. Now, he's the founder and CEO of Doorman, which was recently featured on the ABC show Shark Tank. We asked Zander to tell us about how his Wharton education is helping him in his new venture and about his experience on Shark Tank. Here's what he said:
When I started Wharton's EMBA program, I was working as an artist in 3D animation at Pixar Animation Studios in the Bay Area. The startup culture was exploding here and I wanted to be part of a venture that was trying to make a real difference in the way things worked. I knew I needed a business education before I could start building a company, so I came to Wharton San Francisco for that knowledge.
At Wharton, I focused a lot of my classes on entrepreneurship, marketing, and operations management. The entrepreneurship classes were great. Knowing what it takes to go from zero to 10 much less zero to 60 and learn the basic building blocks of fundraising was critical knowledge in starting a company. The marketing research classes were also very valuable because when you're launching a startup, the early stage is about listening to your customers and making adjustments based on their feedback. So you have to get accurate information and make those insights actionable. And I still pull out my operations management books to figure out the best ways to calculate efficiencies of various parts of the system.
Just as valuable as the classes was the Wharton community. The first version of our mobile app was built by a classmate's app design company. Our first 10 customers were Wharton classmates who thought our service was very exciting. My friends at Wharton and connections in the community really helped get my business off the ground.
I officially launched Doorman less than a year after graduation. It's a service company that puts package delivery in control of the customer. Our company receives package deliveries on behalf of customers who then use an app to select when and where they want their packages delivered by Doorman drivers.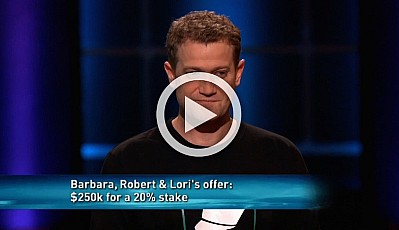 After Doorman was featured in a TechCrunch article, a producer from the ABC television show Shark Tank contacted me about coming on the show. Over the course of a few months, I talked to producers about my pitch and sent them videos of my proposed pitch. It's a long process and it wasn't easy, as there is the possibility you won't move on at each stage. Eventually, I was given a shoot date in September and the episode aired on January 9. I went on the show asking for $250,000 in funding for 10% of the company. After a little scuffle among the sharks, I got a deal with Robert Herjavec for $250,000 for 12% of the company.
We were warned from others who had been on the show that our Website would get hammered after our episode aired. We were prepared, but at one point we had 20,000 people on our site at the same time. I was surprised by the amount of attention generated by the show. We've since gotten hundreds of emails and phone calls and a lot of activity on social media. It's led to new customers and some interesting discussions with major retailers. We've even found some potential investors not related to the show.
Now that we're established in San Francisco, we're in the middle of raising seed funding to expand to Chicago and New York. At this point, we've delivered almost 15,000 packages.
My life is completely different because I went to Wharton. There is no way I would have the business acumen to run a company or feel comfortable doing that without having a Wharton MBA and the support of the Wharton network.
To watch Zander's appearance on Shark Tank, click here.