While many students might measure the value of an MBA in financial terms, Cesar Bocanegra, WG'08, prefers to measure the ROI on his EMBA degree a bit differently. "I like to think about it in terms of quality of life and the connections that began in school," says the 2008 graduate of Wharton's Executive MBA Program. "I talk to at least one Wharton friend every day whether it's chatting, email, or on the phone and you can't put a dollar sign on that!"
Bocanegra, chief operating officer at KIPP SoCal Public Schools, shared his enthusiasm for Wharton's EMBA program with thousands of participants at the National Society of Hispanic MBAs, (now Prospanica) Conference in Minneapolis. He attended the conference for several years, first as a representative of his former employer, AT&T, and then as a Wharton student. More recently, he represented Wharton as an academic sponsor.
The three-day event, which is the largest Hispanic MBA conference in the country, provides plenty of time for networking with professional development sessions as well as career expos where attendees can talk with corporate and academic sponsors.
Bocanegra said that many of the questions he was asked at the expos pertained to how the Wharton EMBA program is structured and how it differs from the full-time MBA program. "I explained how in the Executive MBA program you keep your day job and build relationships over the course of every other weekend when you stay on campus whereas in the full-time program you are there the entire time, but don't apply the skills you learn immediately in your day job." 
Another common topic of conversation, he said, related to the curriculum. "There is an impression that Wharton is heavily finance focused. I explained that while Wharton offers a diverse set of classes, students do have a significant finance course load.  Wharton emphasizes core skills and finance is a big part of that core – it's something you need knowledge of in any area of business."
Bocanegra noted that some people he talked to were surprised to hear how rigorous the EMBA program is. "The reality is that you are giving up a lot more than every other weekend because of the homework and assignments that need to be done between classes. I talked about how the Wharton Executive MBA program has the same requirements as the full-time MBA and lasts the full 24 months."
He added that all the hard work is definitely worthwhile. "There are many benefits of a Wharton education from opening doors to all of the connections that are made through the program all the way to the knowledge that you learn. It's almost an expectation that when people hear you went to Wharton that you really know what you are talking about. At the conference, I highly recommended the Wharton EMBA program to anyone interested in applying!"
Cesar Bocanegra, WG'08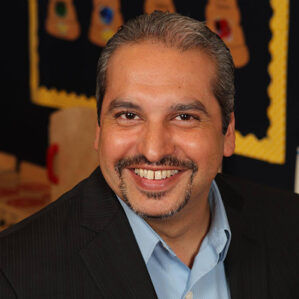 Currently
Chief Operating Officer, KIPP SoCal Public Schools
Based In
Los Angeles, CA

Wharton Campus
San Francisco
Prior Education
Caltech, B.S. Mechanical Engineering and Product Design

MIT, Master's in Mechanical Engineering and Lean Thinking