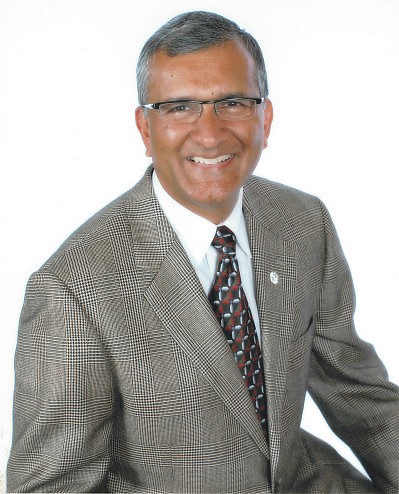 Sam Kherani brings a somewhat unique background to the MBA for Executives program at Wharton | San Francisco. At 57, he's a native of Uganda and practicing dentist in Vancouver with big plans to launch a continuing education business in the dental field. As an entrepreneur and dentist, Sam talks about the experiences that brought him to Wharton and how he plans to use his degree after graduation. Here's what he said:My ancestry is East Indian, but my parents and siblings and I were all born in Uganda. We fled when I was 15 because of political upheaval and started a new life in Canada. We were penniless, but Canada was a great place to start a new life. I made sure to get a decent education and then became a dentist.
I worked as a dentist in Calgary and Toronto for 35 years. During that time, I came to appreciate the importance of continuing education. I started teaching and lecturing dentists on the side about new techniques and business concepts, and decided to move into continuing education for the next phase of my career. I sold my practices in 2007 and joined a dental continuing education institute in Las Vegas. That alone set me apart from the norm in my industry because most dentists stay at one practice for their entire career. I worked there for several years, but felt that we still needed better ways to disseminate clinical and business education to dentists. I wanted to create an environment where dentists can obtain knowledge through different portals. I also wanted a way to bring the various parts of the industry together.
To accomplish my goal of launching a new form of continuing education for dentists, I knew I needed to get a formal business education. My older sister's husband had gone through Wharton's MBA for executives program in Philadelphia 18 years ago. Another brother-in-law graduated from Wharton | San Francisco's EMBA program, and I had the opportunity to attend a few classes with him.  If I was going to go back to school, Wharton | San Francisco's EMBA program seemed like a great place to go.
When I resigned from my job in Las Vegas and started practicing as a dentist again in Vancouver, I realized this was the perfect time to pursue an MBA. By going to Wharton, I would be able to build relationships with a diverse business cohort that I could never access in dentistry, I'd get the in-depth business training needed to start a business, and I'd broaden and challenge my mind.
Being 57, I was a little concerned that I wouldn't be fast enough or cool enough for the other students. The average age is about 36. However, I've been pleasantly surprised by how friendly everyone is and how well I integrate with them. That speaks to the kind of people who go to Wharton. When we visited the Philadelphia campus for a weekend session, I experienced the same vibe there. Wharton EMBA students have a broad sense of what is important in life.
A common denominator in San Francisco is that many students are here because they're interested in entrepreneurship. They're working on a startup and want to obtain the business education needed to roll out their business and to create connections with likeminded people. A benefit of the residential EMBA program is that we live together every other weekend. We're building a life together as we attend classes, dine and study. That builds trust and that is necessary before you can work with others on a business or even brainstorm ideas.
So far, Wharton's MBA for executives program has been completely worthwhile. It's rigorous and quant-focused. The administration takes care of the logistical and social aspects, making sure we have opportunities to bond with our classmates. And the sheer breadth of courses available after the core courses is phenomenal. There are 100 electives to pick from, and you can go to the Philadelphia campus if what you want is offered there. The overall EMBA program costs money, but I always say that an expensive course is the one that doesn't give you enough value even if it is less expensive. You don't want to waste your time or money on a mediocre education. In a nutshell, Wharton is a dynamite program.