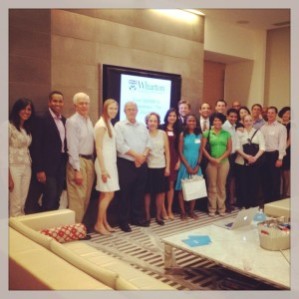 Put a bunch of executive MBA students together in a room and it doesn't take long for great ideas to hatch. A good example is when several students from Washington, DC started talking about organizing meetups to enhance Wharton connections in the DC area. Identifying entrepreneurship as a popular topic among students, Mayank Gandhi, WG'15, director of information management at NTT DATA – Healthcare & Life Sciences, Sudha Gollapudi, WG'16, a structured finance analyst at the Overseas Private Investment Corporation (OPIC), Jing Ma, WG'16, director general at CCTV America, and Patrick DellaValle, WG'15, associate director at Navigant Capital Advisors, planned their first meetup of executive MBA entrepreneurs and students. The group invited the founders of Nexercise, who are Wharton EMBA alumni, as guest speakers. Mayank says the meetup was a "tremendous success." We asked him to tell us more about how the idea came to fruition and what happened at the event. Here's what he said:
I've always been interested in entrepreneurship and even started a technology company while in college. Now, I'm working in healthcare technology consulting, where I'm part of an internal solutions group that is tasked to create innovative offerings. I'm always attempting to learn about emerging technologies and how to leverage them for my clients. So when several of my classmates at Wharton discussed the idea of a meetup focused on entrepreneurship, I was very excited.
We decided to plan the first meetup in Washington featuring executive MBA entrepreneurs. Jing took ownership of sourcing an event location and the associated logistics, and Sudha took responsibility for generating interest in the DC community and social media communication. We also invited the cofounders of Nexercise, a health and fitness app, to be our guest speakers. Interestingly, the cofounders wrote their business plan while they were Wharton EMBA students. Olubunmi "Boomie" Odumade, WG'09, vice president of engineering, and Greg Coleman, WG'09, president and COO, enthusiastically agreed, which shows how willing our alumni are to continue connecting after graduation.
Then we spread the word through the Wharton network about our event. We had a great turnout with a lot of current EMBA students, as well as alumni from both the EMBA and full-time MBA program. We also had the president of Wharton's DC Alumni Club attend. It was a great mix of people. In addition, I had received several emails from alumni and students who couldn't attend, but asked me to share information about their ventures at the meetup.
We started the event with a networking session followed by a presentation from the Nexercise founders and then more mingling. During the presentation, the Nexercise founders shared the story of their journey and some of the secrets to their tremendous success. Greg and Boomie also discussed how they launched the company as Wharton students and used several courses to help them, which was of great interest to the current students in the audience.
I knew this would be a great meetup with executive MBA entrepreneurs, but I have to admit that I was surprised by just how successful it was. There are a lot of entrepreneurs who graduated from Wharton in the DC area who are very active in the startup community. Nexercise is a good example. We also had plenty of participants from other backgrounds who are interested in entrepreneurship.
Since then, we've had a great deal of emails and calls from participants who want to continue conversations from the event. As a result of the meetup's success, we're already talking about taking them on the road to other locations, such as New York and Philadelphia, as well as other ways to network with and learn from each other. We know we'll have a great turnout at future events because of the strength of the Wharton network and value of those connections.