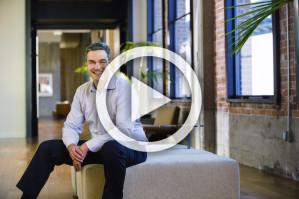 Paul Martin, president and founder of Intermountain Wind in Boulder, CO, decided to attend the Wharton executive MBA program in San Francisco because he saw it as a great opportunity to take a step back and gain a holistic view of business. With a background in finance and real estate development, Paul wanted to round out his education in order to take his utility wind development company to the next level. We asked him to tell us more about his experience as a Wharton student. Here's what he said:
On Wharton's faculty and students:
The professors are outstanding and bring a lot of industry experience to the classroom. They often assist students to find ways to apply class concepts to what students are doing at work or in their entrepreneurial ventures. This becomes a fantastic opportunity to learn from my classmates since they also bring a wealth and diversity of experience to the program. It's a very rich environment.
On gaining confidence:
Wharton has brand recognition in a lot of circles, including both the financial and political spheres. I'm often talking to public officials and policymakers about energy issues or finance providers about funding and the Wharton name gets people's attention. The Wharton brand conveys a certain level of competence as well as the ability to bring the Wharton network to the table.
On needing a support network:
This experience stretches your capacity to achieve things. As a classmate of mine put it, "I've found gears to operate in that I didn't know existed before." As a husband, father, founder, and member of my community, it was hard to add the additional responsibilities required by participating in the program. My wife has been incredibly supportive throughout and that has been a great advantage, but it was necessary to look at how I spent my time and to trim anything superfluous. With my wife's help, we were able to make sure the wheels didn't fall off.
On setting an example:
I wanted to get a graduate degree for personal reasons. Part of it was me seeking to be the best that I could be so that I could set a good example for my kids. I want them to know that if they pursue academic success they will have many doors open to them. Hard work in both academic and professional life will lead to them achieving their dreams. For me, this program has been about challenging myself and continually broadening my horizons.
On being an entrepreneur:
There are a lot of entrepreneurial-minded folks in the San Francisco program and it creates a shared level of excitement that some great businesses will be created there. These entrepreneurs bring something unique to the classroom. There's a level of risk tolerance that you don't necessarily see in everybody. You're casting off the safety blanket and have to craft strategy and stay motivated even through dark times, which every business experiences. That is a very daunting prospect. Entrepreneurs have to be self-starters who can push through the inevitable challenges, and they are extremely optimistic. I started my business based upon the belief that the world was changing to cleaner electricity generation and I wanted to be on the right side of history. I feel that many of my classmates share this sort of optimism when it comes to their business ventures, and the enthusiasm permeates the program.