Wharton's Global Consulting Practicum (GCP) is a popular way for EMBA students to expand their global perspective. Working with MBA students in another country, they apply classroom knowledge, make broader connections, and learn about business issues in a new region. First-year EMBA student Todd Sierer, director of Americas sales for Edmund Optics in Barrington, NJ, recently returned from a GCP trip to Brazil. We asked him to tell us more about that experience. Here's what he said:
I was interested in participating in the GCP because it would expose me to a new industry and allow me to learn more about Brazil, which is a hotbed of growth and development for many sectors. I'm not at Wharton to just get my MBA and go home. I want to push myself to learn things in ways that I wouldn't be able to do anywhere else. The GCP was too good of an opportunity to pass up.
My GCP team was assigned to consult for a business looking to enter the Brazilian food and beverage industry. The company had successfully entered other markets in Latin America, but hadn't yet come to Brazil. It wanted Wharton MBA students to analyze the issue, see if this market makes sense, and (if so) determine how best to enter the market.
This was an exciting chance to apply all of the theory and case study learnings from class beyond our own organizations. It was also a chance to see what consulting is like and expand our network.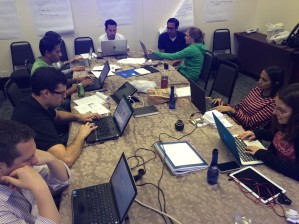 After weeks of preparation, we visited São Paulo and the surrounding state for a week in January. We spent most of our time on the ground getting to know the market, key players, and industry experts. The Wharton brand opened a lot of doors, and we found there were many people interested in working with Wharton students. We arrived in Brazil with several hypotheses so we also spent the week testing those out.
Working with our counterparts from Chile added a lot of value to the experience because we were able to build connections with future business leaders from another part of the world. We spent 18-hour days working together, but we also bonded at night with group dinners.
It was interesting to understand how the entire food value chain works, how it profits, and the competitive advantages and challenges along each step of the process from the person who grows the food to the person manufacturing the food to the person selling the food. It's one thing to talk about these issues on a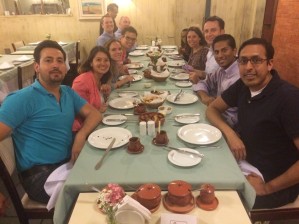 white board, but it's quite another to literally see those principles put to practice in a different setting and different part of the world where they still hold true. It turns out that many business challenges are the same around the world, which gives me confidence that I'll be able to analyze and understand issues to make good decisions in any setting or culture.
I highly recommend the GCP to other students looking to get hands-on experience with new business issues. It's a great way to learn, to get out of your comfort zone, and to enhance your global perspective.
Read a related blog about the GCP: Seeking to Improve Access to Financial Services for the Poor in Kenya