Wharton's EMBA program has a long tradition of organizing international class trips. As second-year Philadelphia student David Trecker explains, "It's a once in a lifetime opportunity to appreciate – with 60 classmates– a foreign culture through the lenses of business, government and social leaders." David, who is director of market and business development for Citigroup in New York City, recently returned from his international trip to Indonesia. We asked him about that experience, and here is what he said:
The theme of the international trip to Indonesia was sustainability, with a focus on political and economic development. We benefitted from candid, first-hand accounts of Indonesia's challenges from the public and private sector leaders tasked with overcoming them. My classmates and I received what amounted to an insightful, multi-perspective analysis of the world's largest Muslim country's efforts to emerge from the "middle income trap" to become a wealthier, more balanced economy. I think it's fair to say that everyone came away with a new appreciation of the challenges facing the emerging world.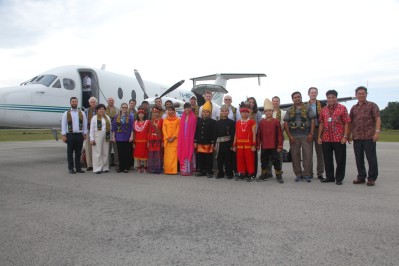 The trip began with a subset of students taking a side trip to Sumatra to tour a fully-integrated pulp, paper and palm oil plant of a $20-billion company. The senior management team showed us from beginning to end how paper is made: from breeding seeds to a textbook Lean Manufacturing facility that produces and packages a mile of paper per minute. We observed impressive and innovative sustainability practices.
For example, instead of using poisons to neutralize rats and other pests from consuming the fruit of palm plants (the palm oil raw material), it imported and bred European barn owls. It's hard not to appreciate low-cost AND environmentally-friendly efforts! Finally, we talked at length about the many stakeholders a company that relies on natural resources must manage, from the government to environmental groups and local villagers. It was a fascinating visit that none of us are likely to forget.
Afterward, we joined the rest of our group of 60 EMBA students in Jakarta where we "chose our own adventure" from an array of speakers and site visits. One of the most popular sessions was a presentation by a manager from a mining and extraction company. Among other topics, he discussed local suspicion of foreign direct investment and its impact on regulation, investment and even the judiciary.
Another highlight for me was a discussion with a Coca-Cola executive who talked about how the company tailors its marketing techniques and messaging to local tastes. It was fascinating to hear how it prioritizes market share over profits in order to focus on building long-term relationships with local customers and distributors. Because the company thinks in decades (and longer!), traditional measures of financial success are all but meaningless to them.
Other memorable sessions included: a policy discussion with the outgoing vice president, a lively back-and-forth on media health with the editor of the Jakarta Post, and a lecture on the capital challenges impeding lending growth by the CFO of Indonesia's largest bank.
Because we divided into sub-groups for the various company visits and speakers, we had intimate meetings that facilitated candid discussions. You could ask your own question and have a real dialogue with very senior leaders. One of the recurring themes from our discussions was that Indonesia has a ton of potential, but also has serious challenges. The hope for – and anticipation of – change with the newly elected president is eerily similar to the U.S. in 2008. The excitement was tangible; the timing of our visit could not have been better.
As for the bonding experience with classmates, old friends became closer and new friendships were made across both campuses. We created more than a handful of memories that we'll have for the rest of our lives.
In summary, the trip added a lot of value to my Wharton experience because of the inimitability of the lessons and experiences. We reached beyond our comfort zones – geographically, culturally and academically – to immerse ourselves into a beautiful, but altogether foreign way of life. It broadened our world-view in a way that few other experiences can.