Executive MBA students at Wharton organize all kinds of events ranging from social gatherings to company visits. First-year Philadelphia student Guilherme Daldon, electrical maintenance manager at Gerdau's long steel business division, recently offered his classmates a tour of his company's steel manufacturing facility in Sayreville, NJ. We asked him to tell us about that tour. Here is what he said:
I recently organized a tour of Gerdau's New Jersey steel mill so my classmates could see that many of the concepts we learn about in school apply to the world of heavy manufacturing. For instance, in Operations and Information Management (OPIM) classes we talk about matching supply with demand and focused manufacturing. On the tour, students could see how those concepts apply at a steel production plant. Additionally, in our Managerial Accounting class, we talk about making decisions based on various internal cost figures. Not too many of my classmates work in manufacturing, so I knew this would be a very unique experience for them.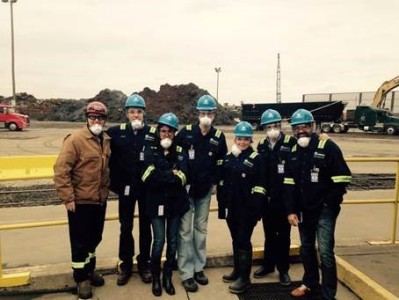 Our tour began with lunch at Gerdau followed by a video explaining the technical aspects of steel manufacturing at our plant and the operational steps. Following lunch, we toured the facility so students could see each step. Along the way, we talked to operators about both the technical and business aspects of production and how they are related.
We started in the scrapyard where we showed how steel making is an industry with an important environmental role in society. Most did not know that 100 percent of our main raw material – scrap metal – is recycled.
Then we went into the melt shop where scrap metal is melted and poured into steel products. We talked to operators there about employee motivation and the economics of incentives. The last part of the tour was to the rolling mill, where we discussed the importance of safety for the company. The health and safety of our employees is a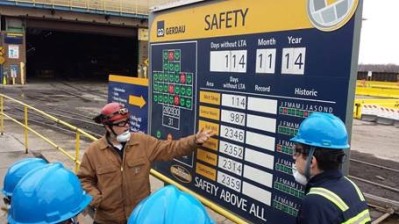 number one priority at Gerdau. We work to ensure that our employees go home to their families in the same condition they came to work, and we continuously work on key safety initiatives in all aspects of the company.
The tour was well received by my classmates. I think a big takeaway was the realization that we do still have heavy manufacturing in America, and this is a strong industry that creates a great deal of value. I believe it was also interesting for them to see how different this environment is from a typical office space, as this was the first time that many had been in a manufacturing environment. This was a good opportunity to integrate ourselves with the academic community, and I'm looking forward to attending other student-organized tours.