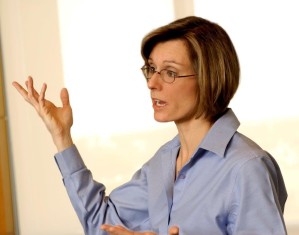 In case you missed it, Vice Dean Peggy Bishop Lane was recently interviewed in Poets & Quants for Executives. In the article, Peggy covers a variety of topics including the latest developments in our East and West Coast EMBA programs, why the EMBA degree could become the "degree of choice," and the impact of tele-presence technology in the classroom.
When asked about what's new and unique at Wharton, Peggy described our new executive coaching program. "It's really wonderful because it gives students an opportunity to focus on things that are really important to them—mostly related directly to their careers—but often times it will mesh with the experiences they are getting in the program and the opportunities they are now becoming aware of. I think it's a really important and valuable addition to the typical academic experience that they get here," she said.
Peggy also discussed the global experiences offered to Wharton executive MBA students. She described our Global Modular Courses (GMCs), which are extremely popular mini courses that allow students to do a deep dive into business issues in a particular country or region. In addition, Peggy noted how Wharton also offers EMBA students the opportunities to experience both coasts and is always adding new courses.
As for the EMBA degree, she said, "As people realize you get this opportunity to learn and apply your knowledge in real-time while you're working, and you get to develop a network and enhance your career all at the same time, there's huge value to doing that. I think a lot of the rest of the world already gets that point, and we could be moving in that direction over that 10-year time span."
On the question of how technology has impacted our programs, Peggy noted, "Probably, the most potential is a tele-presence system that we put in with the help of Cisco a couple of years ago. It's a little more real-life looking than your typical teleconferencing system. When we project a faculty member or speaker from one campus to another, it literally looks like they're standing in the same room. … And now we've opened a facility in Beijing, and we have this tele-presence technology there, too. So, that opens up all kinds of possibilities in terms of speakers in industry or even academics."
To read the full Poets & Quants article, click here.
To read a Wharton EMBA blog about Peggy, click here.