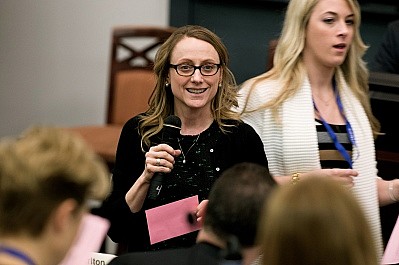 Most Philadelphia EMBA students meet Prof. Patti Williams in their first core Marketing course, and San Francisco students may meet her at West Coast information receptions. We recently asked Prof. Williams to tell us more about her course and experiences teaching EMBA students.
What do you want students to get out of your Marketing course?
The class is an advanced introduction to marketing. Many students don't have marketing experience and think it is just about advertising. I want students to come away from this class with an understanding that marketing is about identifying, understanding and providing solutions for customers' wants and needs and involves thinking about customer segmentation, opportunities to pursue new markets, and delivering value to customers through the process of creating products and services. It's also, of course, about pricing, distribution and marketing communications. A big 'aha' moment for the students in the course is the idea that marketing itself is a set of strategic decisions and not just about allocating budgets to buy ads and creating good creative – that can be a real eye opener.
How is the class structured?
The class is a balance of very interactive lectures—with lots of opportunities for feedback and engagement—and several business cases illustrating the course content. In addition, students have two group assignments in which they are asked to take learning from the class and apply it together to solve a problem in a case-based situation. This year, one of the cases was based on Red Lobster and involved identifying target customers and interesting customer opportunities for the company. It was timely because its challenges have been in the news recently and the case raised relevant issues about Red Lobster's brand and its value to different types of prospective consumers. I also know from Facebook posts and emails that many of my students had fun sampling the food at a local Red Lobster together. The second case was based on an Israeli startup called Takadu, which monitors lost water to help utilities better manager water systems. When I choose cases, I pick different types of companies to show how the marketing principles we talk about in class apply to a wide variety of contexts—more consumer-focused or business to business, mature business, new venture, etc.
Do students bring their work experience into the class?
Their work experience comes up in a variety of ways. In class, students often talk about their own organization's experiences with a particular marketing challenge or discuss how a framework might be useful to address a current issue. I love teaching EMBA students because they so readily take the content they learn and apply it in their own work situations. As a professor, it's great to have an opportunity to engage in their current business issues in real time.
We also discuss their work issues outside of the classroom. I often join the students for lunch and also meet with them outside of class throughout the semester to talk about business issues they are facing or marketing ideas for their companies. There are many opportunities to connect outside of class and I enjoy those conversations.
How is teaching EMBA students different from teaching full-time MBA students?
EMBA students are at a different life and career stage. As a result, the way they relate to the information in class is different. Full-time MBA students are bright, accomplished and eager to learn, but the information may not be relevant to their jobs for a couple of years so there is less of an immediate application to real-world situations and it is more of a classroom experience for them. In an EMBA class, students are very quick to see the relevance and to apply the content to their jobs.
What do you enjoy about teaching EMBA students?
Their capacity for work blows me away. These are people who have full-time jobs and often have families too, but they come to class ready to kill it every single class period. They are prepared to learn and are engaged in the material – they are ready to make the most of every moment in class. What continues to astonish and impress me is how much effort they put into the classwork despite all of the other things they juggle. They are there because they really want to be there and I can't imagine a better teaching environment than that.
How else do you engage with EMBA students?
I occasionally serve as an advisor for independent study projects. This year, I advised a group of second-year executive MBA students for a project for Victory Brewing Company and its growth opportunities. Throughout the multi-month project, we met by phone every few weeks to talk about what they had learned in their research, their findings from the data, and recommendations for the company. It was a really fun project for the students and for me and yielded some interesting insights and recommendations for Victory.
Do you ever teach at Wharton San Francisco or attend Wharton events on the West Coast?
I have taught at our San Francisco campus, but not in the past few years. The students there tend to have more of an entrepreneurship, engineering or technology orientation so they bring different perspectives and experiences to class. It's interesting to have that variation on each campus. I like teaching both groups a lot and as a Stanford undergrad alum, I love the chance to get to the Bay Area.
Though I haven't taught in San Francisco in a few years, I've participated in several Wharton events on the West Coast. I probably shouldn't say this out loud, but I'd do just about any event that Wharton San Francisco Vice Dean Doug Collom asks me to do! I recently was at an event in Santa Monica and did a fireside chat with the founder of a startup in the home space called Pirch. It was fun to meet prospective students and alumni and have the opportunity to build awareness of Wharton's program in the Los Angeles area, and I loved learning about Pirch and its approach.
What are some of your current research projects?
Most of my research is around how emotions influence consumer decision-making. I have several projects in this area, but one involves looking at how consumers respond emotionally to stock outs in a store. Some situations are more likely to make consumers angry and thus leave a store, whereas others may leave them feeling disappointed and willing to stay in the store but to switch brands. I also have projects looking at how consumers enact identities in the marketplace and how those drive decision-making.
In addition, I've done a lot of work in the past few years with the Estée Lauder Companies through executive education programs and consulting projects. It's nice to be able to bring some of those experiences into the classroom for EMBA students.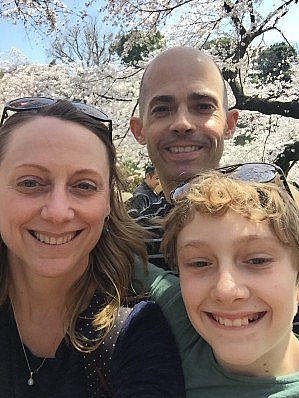 What do you like to do when you're not wearing your professor hat?
I have a 17-year-old daughter and 11-year-old son. They keep me busy and I love spending time with them. My husband and I love to travel together with them, and just returned from a spring break trip to Japan. Later this year, we are headed to Vienna, Venice and Rome. It's wonderful seeing the world through their eyes.