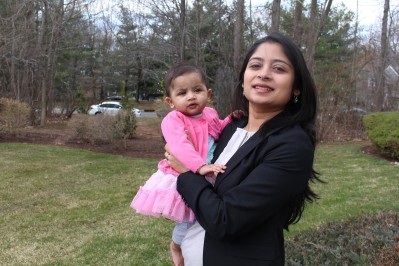 Executive MBA students have full plates with school, work and community commitments. The thought of having a baby in the middle of the program can be downright daunting. However, second-year Philadelphia student Garima Mathur, who had her first child last fall, says it's not as scary as she expected. In fact, she says there are some positives to starting or expanding your family while in school. We asked her to tell us more about her experience. Here is what Garima, a business transformation manager at Philips Healthcare in Princeton, NJ, said:
When I started Wharton's executive MBA program, my husband and I were planning to start a family either close to graduation or soon after. As a student, I wanted to focus on school and work, and save starting a family for later. When I found out I was pregnant in my first year of school, I freaked out.
Looking back, I see that it happened at exactly the right time for me. For instance, I knew I wasn't going to change jobs while I was in school. Having that stability meant that I wasn't starting a new position, and it allowed me to take three months of maternity leave. That time off from work let me focus on my daughter and school. Had I waited to have a baby until after graduation, I might never have found the 'right time' to start a family, as I'd probably be more focused on advancing my career.
Also, the professors, staff and students were all very supportive. Wharton talks about equality and supporting students with families, but I saw first-hand that it means what it says. The professors provided extra time when needed to complete assignments. And the administration knew I was nursing and made sure I was staying at the hotel on campus so that I could go to my room to pump every few hours. The hotel even put a refrigerator in my room.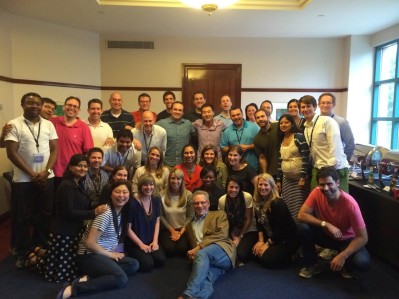 As for time off, I did take one class weekend off, but Wharton allows you to record lectures so you can listen to them later. I also wasn't able to go on the international trip with the rest of my class, but that meant I had four weeks off from school. The biggest challenge was easing my own expectations because I couldn't be everything to everyone and be everywhere. I felt guilty that I wasn't contributing as much as I wanted to my learning team, but they were very supportive.
It also helped to have a support plan in place. We came up with a plan for my parents to help out. I also let family and friends know I might need help after the baby was born.
Now that I'm back from maternity leave and am juggling work, school, and family, I find that I'm valuing my time on campus. While it hasn't been easy, it also wasn't as scary as I thought. For other women thinking about starting a family while in school, I'd say to go for it. I've since talked to other women in other EMBA classes who had babies in the program. One woman planned to have two babies while in the program! They all agree that it is very doable with help and planning.