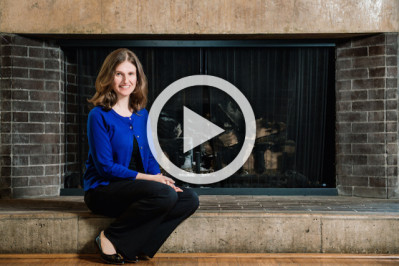 After graduating from college, Monique Rollins spent 10 years working in the field of investment banking, helping corporations think about capital structure and strategies for raising capital. When the financial crisis hit, she says it was a defining moment in her career. She began thinking about ways to make a broader impact and use her financial skills in the realm of policymaking. Joining the U.S. Department of Treasury in 2011, Monique now runs a team focused on financial markets policy. We asked her to tell us more about her experience at Wharton. Here is what she said:
On Timing …
There's never a good time to take a break in your career, but with Wharton's EMBA format, you don't have to. I wanted to come back into the classroom and be exposed to really strong professors and a diverse network of fellow students. A great aspect of the EMBA program is that you can do this without leaving your job.
On Motivation …
I had developed expertise within the world of financial markets and corporate finance, but I saw an MBA as a way to round out my business knowledge. I was specifically interesting in taking classes in areas newer to me like marketing, operations and even management strategy. I hope to run a larger organization one day and it's important to understand areas like how teams fit together and how to motivate individuals. That's applicable to my current role within the government as well as future roles.
On Career Impact …
The impact of my Wharton education on my career is observable in a number of ways. Being in the program while working full-time has helped me become more organized, efficient and direct. I also think I'm a better manager. My active listening skills have improved from being in the classroom with professors, but also from listening to my peers. In particular, my approach to problem solving has changed. Wharton has helped me become more creative through the process of going from the classroom to the work environment and back to the classroom, which helps students to be more broad and innovative in their thinking.
On Comradery …
The amount of comradery and the depth of our class bonds surprised me. We're only here on weekends and are all busy with our careers so I didn't expect to form these deep relationships. But it's an intense experience to be here on those Fridays and Saturdays. The program administrators set up the structure and provide the ingredients and then we as a class have come together and created deep relationships.
On Leadership …
The Total Leadership class made me think about leadership in a unique way. The professor encouraged us to think about our lives in different spheres and how those overlap: work, home, community and self. This framework is interesting because you often think about work-life balance as a tradeoff. The more you work, the less time you can spend with family. But he made us think about how changes in one sphere can have ripple effects in others to creative positive wins. Then we ran experiments in our own lives to see if we could make positive changes.
On Support Systems …
It's important to have a support system. I recently had a son and it's an amazing experience, but of course it's not easy to manage being a new mom with work and school. However, a strong support system makes managing it all doable. There are a number of moms and dads in the program. For me, my husband is fantastic and my mom in particular has really helped out. It's worth underscoring that the administrative team goes out of their way to make the logistics of being a student here low maintenance.
On Workload …
I won't sugarcoat the experience; this program requires a lot of hard work. Matriculation in WEMBA brings tremendous benefits, but it also means making a real time commitment to the program. You're taking the same credits as you would in Wharton's full-time MBA program. You need to bring a lot of excitement and enthusiasm to the experience as well as the expectation that for two years this will be a substantial part of your life.