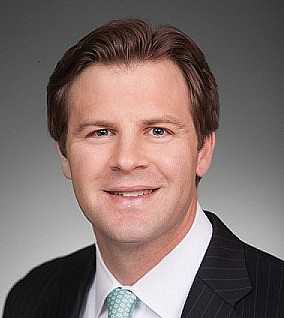 Gregory Hagin, a liberal arts major who built a consulting career working with nonprofit organizations, came to Wharton's EMBA Program to gain a formal business education. While in school, he's also gained a lot of support for his work with Habitat for Humanity. We asked Greg, the corporate vice president and managing director at CCS in Philadelphia, to tell us more about his Wharton experience and how it has impacted his volunteer efforts. Here is what he said:
On Support from Wharton:
I first swung a hammer for Habitat for Humanity in 2000 when I was a college student. I became involved with the Philadelphia group in 2008, eventually serving in just about every leadership position possible. I'm currently in my sixth and final year on the board. I believe in this organization's philosophy – it's not about a hand out, but help up. The model works. It creates a real partnership effect with our families who are hardworking and deserving. It also delivers measurable economic value. We've calculated that for every $1.00 invested in Habitat, approximately $13.00 is returned back to society. The social return on investment is compelling.
Wharton has been fantastic in supporting Habitat for Humanity. It started before I was a student when Habitat for Humanity participated in Wharton's Nonprofit Board Fellows Program. I served as a mentor for MBA students and had two board fellows placed at our organization through that program. It's been a very successful relationship and I am proud of that partnership.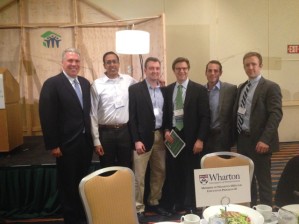 Since I've become an EMBA student, Wharton has become even more involved with Habitat for Humanity. I made a first formal pitch for support in my Management Communications class, asking my classmates to get involved. My classmates and members of my study group responded with great generosity, raising $11,000 in just a few weeks. As a result, Wharton ended up being a lead sponsor at a recent Habitat for Humanity luncheon, which raised more than $360,000. A number of my classmates joined me for that event at a Wharton table. Interest in Habitat for Humanity has continued and this summer and fall we'll have two volunteer opportunities for my classmates to help build homes.
On Classes:
My Wharton classes have helped me as a consultant in the not-for-profit space on several levels. First, strategic planning and fundraising for nonprofits requires just the right blend of art and science. Wharton sharpens both analytical and creative skill sets. Second, I have greater confidence presenting to high-level boards and making consequential recommendations to their philanthropic organizations. Third, I believe I'm becoming a more capable leader and manager and builder of dynamic teams as a result of team projects and presentations. Lastly, I think about my corporate approach to business development and marketing in a whole new light. For each of these examples, I can point to specific classes and discussions with professors and classmates, who have helped immeasurably in expanding my thinking.
On Classmates:                                                                                 
I think the greatest value of the program comes from our classmates. Specifically, collaborating with my first-year study team was an immensely positive experience. Overall, we have a phenomenal class of really smart, talented, accomplished, ambitious and yet incredibly collegial and humble people. It's amazing how down to earth everyone is and at the same time so wonderfully successful in their chosen careers. There's a richness to the diversity of experience and perspective, not to mention the level of discussion, that occurs before, during and after classes. From a career perspective, it's such a gift to be able to ask a question about almost any industry or sector and have an expert among your classmates who is eager to engage in a dialogue about that topic. The Wharton network is alive and well, and very powerful.
On Innovating:
Wharton's EMBA Program is a great experience because you meet a lot people who are interested in many of the same topics. Affordable housing, education efficacy, healthcare delivery, and food security are a few examples. But they all come at it from different angles, whether that's functionally in terms of finance or technology or marketing, or by sector in terms of private or public or nonprofit. Combine those ingredients with student access to entrepreneurship resources and programs and you have some truly innovative thinking happening.
Just last term, I partnered with two other students — a brilliant engineer and an indefatigable attorney — in the Wharton Business Plan Competition on a new idea for a mobile-ready, individual giving platform, PHILi. Our concept is to mobilize philanthropy. After just a couple of months of brainstorming, we wrote a business plan and ultimately advanced to the semi-finals. That competition then introduced me to another group of fantastic innovators designing a corporate social responsibility platform, Soceana, which utilizes a novel, patent-pending social currency, Philas, to bridge volunteering hours and charitable contributions. Wharton gives you these opportunities to constantly expand your network and be exposed to new ideas. It truly widens your lens and encourages you to innovate.
On Investing in Education:
I would absolutely recommend Wharton's EMBA program to professionals in the not-for-profit space. This program has been nothing short of outstanding so far. Leaders in the nonprofit and philanthropic areas have a tremendous amount to gain through the learning, networking and innovating at Wharton. It's a great investment and I'm delighted that I decided to come here.