Elana Krieger, an attorney in New York City, came to Wharton's MBA for executives program to further her education and expand her career opportunities. Now a second-year student at Wharton in Philadelphia, Elana is discovering many new interests and broadening her network. We asked Elana to tell us more about her EMBA experience. Here is what she said:
Did any preconceptions about Wharton change once you started the program?
Actually, most of my preconceptions were confirmed. For example, I expected my class to be dynamic and diverse. There are students at Wharton with many different backgrounds, from all parts of the world, and who have a variety of skillsets. The experiences and perspectives of my peers enhance an already rich educational environment.
More generally, I chose Wharton because I thought it was the school from which I would be most likely to get the full-time MBA experience and education in an executive MBA format. This has also proven out. We take the same classes with the same professors as full-time MBA students and our coursework gets the most from us, especially considering our full-time jobs and personal commitments. I find it highly adrenalizing.
What has been surprising?
When I evaluated executive MBA programs, the schools' alumni network and career services were not at the top of my mind. However, those services are phenomenal at Wharton. And we have access to many opportunities that one might typically associate with a full-time MBA program. For example, I participated in the Global Consulting Practicum advising the active pharmaceutical ingredient division of a global pharmaceutical company, which had made several acquisitions and sought our help in developing a strategic and tactical plan for its API business. This was one of the key education experiences of my first year at Wharton and gave me the chance to apply some of the lessons I had learned in my management and operations courses in the real world, under fire.
How much time do you spend studying each week?
A lot! The EMBA program has been the best chance yet to exercise my time management skills. The courses are deep and can profitably re-pay as much time as anyone could spend on them. I come from the generally non-quantitative fields of human development, education and law and had been a practicing attorney for over a decade before starting the program. I had never formally studied business before, so courses such as Accounting and Finance were brand new to me. I am happy that my professors in those courses have helped me to unearth some skills that I would not have known that I had, and in areas that come less easily I have been pleasantly surprised by the support and services available to students. We can seek guidance from our professors, TAs, or our study groups anytime we need help.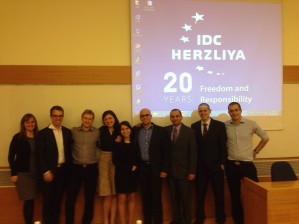 What kind of career impact have you seen so far?
I decided to pursue an MBA because, coming from a legal background, I knew I wanted to do something different. At Wharton, I've been exposed to many new areas and discovered new interests; I'm exploring some entrepreneurial areas and the Global Consulting Practicum has given me a taste of what it's like to work as a consultant. This program has given me the opportunity to look at different areas and chart a brand new path.
How do Wharton EMBA students bond outside of classes?
The most common way we bond is through the social events that are planned each weekend. There is also an active NYC EMBA group. We attend dinners, shows, seminars and conferences together.
Being in Wharton's EMBA program is very different from being an undergraduate or even a graduate student where you typically spend most of your time with the same group of friends. At Wharton, the network of our fellow students is a big advantage of the program, so we all put in an effort to get to know one another. During meals on EMBA weekends, for example, it is common to sit at the first open seat (rather than look for familiar faces) in an attempt to try to interact with everybody. It's a very friendly and welcoming environment.
How was the process of choosing electives?
The electives selection process is unique at Wharton. When I was looking at other schools, it seemed like most offered a static menu of classes each year. At Wharton, we start out with the large list of electives offered in the full-time MBA program. We then go through a series of class votes to narrow down the options. This way, the elective options reflect the interests and goals of the students in the class.
What is your commute like from New York City?
I thought the commute to Wharton would be the biggest drawback. However, it has not been an issue. The train ride is 90 minutes from New York City to Philadelphia. Dozens of Wharton EMBA students from New York take the train together. Generally, we use the time going to school to study or catch up with each other. On the train ride back home, we enjoy bonding in the café car after a long weekend of classes.