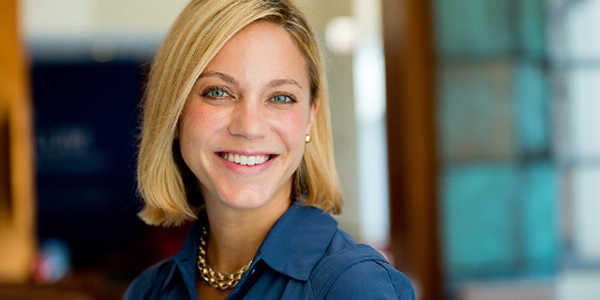 Hometown: Boston, MA
Title: Dermatologist; Assistant Professor, Department of Dermatology; Director, Cosmetic and Laser Center
Company: Boston Medical Center and Boston University School of Medicine
"You learn how to be as effective as possible for your team so that in the end you all win."
---
The prescription for advancing Emmy Graber's career: an MBA from Wharton. A practicing dermatologist from Boston, Graber wanted to expand her business skill set, setting herself up for the possibility of a leadership position in the healthcare industry. While she could have selected one of the many programs in her hometown, Wharton's network, reputation, and residential component enticed her to commute down to Philadelphia. Graber discusses gaining a new perspective, bonding with her classmates, and applying traditional business concepts in her medical practice.
---
I want to broaden my skill set to position myself for a leadership role in the health care field.
I'm a physician and enjoy my career, but looking forward, I am considering supplementing my role seeing patients by also holding a leadership role—perhaps in the form of hospital administration or working in the pharmaceutical industry. I haven't defined my career goals yet, but Wharton has given me a broad knowledge base and connected me with a new network. It has allowed me to expand my thinking and learn about industries outside health care.
In the beginning, I felt like everyone was speaking a different language.
I had no business background. It was difficult coming in. The first semester, we had accounting and microeconomics—classes I've never had before. It's humbling but rewarding. It forces you to learn something new, and challenges you to think in another way.
We do a lot of group work in the first year, and every member brings something different to the table.
Someone good with Excel would create our spreadsheets, while a former English major would handle the writing. We created a great project by relying on our team members' strengths. From this, I learned a lot about sharing responsibility in a team, which is a universally helpful skill. You have to surrender the need to know it all and learn to rely on your team. You learn how to be as effective as possible for your team so that in the end you all win.
I've enjoyed getting to know people from different industries, hearing about what they do, and making great friends too.
We bond over work issues and use each other as sounding boards for ways to solve problems. We talk about issues with coworkers, trying innovative ideas, or general networking. Having casual conversations outside class during the overnight stay in Philadelphia has led me to learn how other people have accomplished things professionally. The social experiences are also humbling. It's incredible to hear about the things that people in my class have accomplished. We have an amazing class.
Wharton has definitely given me a new way to look at my workplace.
Because we all come from different backgrounds, we all bring different perspectives to the program. You learn to think more critically because you see how people in other industries approach issues. For example, in Management of People in the Workplace, we talked about managing different personalities and giving feedback. In medicine, there is a distinct pecking order, and we don't focus on how to motivate our med students and residents. I learned about the motivation techniques used in other industries, and I've successfully applied some of these concepts to motivate my med students and residents.
Aside from the great healthcare-related classes, you can undertake healthcare-related projects in your other classes.
I'm writing something on negotiating with healthcare administration for my negotiations class. In my global strategy class, I'm doing a global analysis of the premium skincare business. I've been able to take these traditional business classes and make them applicable to what I do as a physician.
Participating in the Global Modular Course on leadership in Rwanda was transformative.
Since the genocide, Rwanda has experienced tremendous change and has set about rebuilding itself. President Kagame has instituted initiatives that have allowed previously warring groups to live peacefully together. This has led to a more productive country, and the country's reconstruction is a great model for business. On the trip, we learned about the country in a number of ways: we visited schools; we visited the minister of health, the minister of agriculture; and we even met with the President himself. We also discussed how we might apply his ideas to the business realm. President Kagame's leadership style, dedication, and vision for his country is exceptional. Seeing a country that at one time was completely devastated by its own people and now is thriving and living in peace is an inspirational example of the change that is possible through great leadership.
Wharton teaches you how to prioritize and to accept that you can't do it all.
Juggling work, life, and school prepares us for the future. Ultimately, if we're going to be part of a large corporation or running our own businesses, we'll be equally busy. The program forces us to prioritize. Some things we can't do, some things won't be done perfectly. You work the hardest on the aspects that deliver the greatest reward. It's up to you to decide what those are.
Previous Education: Undergraduate and medical degrees, as well as residency: Pennsylvania State University
Previous Work History: Private practice dermatologist at SkinCare Physicians in Chestnut Hill, MA
Personal Information: I spend a lot of time visiting friends all over the country.
Interests/Hobbies: Traveling, snowboarding, biking, spinning, pilates and yoga