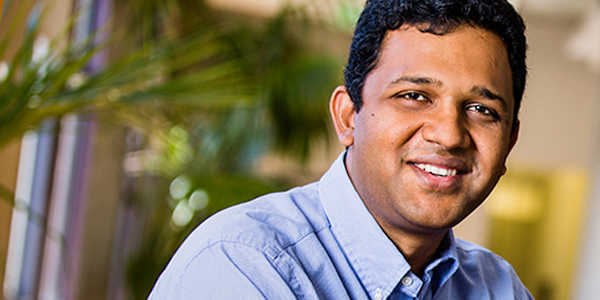 Hometown: Santa Clara, CA
Title: CEO
Company: Boomerang Commerce (rBoomerang.com)
"Wharton gives you the tools to be a successful entrepreneur. It's up to you to use them."
---
Guru Hariharan had ample computer engineering experience before he jumped into the entrepreneurial pool with the launch of his company Boomerang Commerce, a retail platform-as-a-service company that allows large and small retailers to compete online with the likes of Amazon. As the CEO, he appreciates the comprehensive business foundation he's building at Wharton, which has enhanced his ability to manage the many facets of his company. Guru reflects on the academic resources and student network at Wharton that have been invaluable as he gets his startup off the ground.
---
Having a business school background gives a lot of maturity to the thought process and increases your odds of being a successful entrepreneur.
People have strong opinions as to whether or not an entrepreneur should have a business degree. I'm of the opinion that you have to be a well-rounded person in order to run a successful and sustainable business. I came to Wharton to learn the tricks of the trade, what it takes to start a company and to grow a company.
I wouldn't have gone anywhere but Wharton.
I wanted to pursue my degree at the best school. Fortunately, Wharton has a San Francisco campus with an executive program, which allowed me to start my company while in the program. The faculty is fantastic. The best faculty travel to San Francisco to teach us. And they are the best in the industry. The students are great as well. I've had so much help and gained so much from them. They've put me on the path to success with my company.
At Wharton, the more you put in, the more you get out.
The more you invest in the program, the more you learn. Starting a company is the same way. Not to say that a day-job is different. But with entrepreneurship, if you work an extra hour, you create more value for your company. The same applies to Wharton.
My classmates, who are experts in many different subject areas, have been a great resource in starting my business.
The diversity with the class is tremendous: There are marketing guys, finance guys, engineers and lawyers. If I don't know the answer to something at work, I can grab a drink after class with a fellow student experienced in that area and talk about solutions. One of my classmates met with me on a weekly basis to review my approach in defining and positioning our product—he was an expert in this area. I wouldn't have known where to start in creating a product portfolio without his help. He would meet me for coffee every Friday, and we'd discuss how to develop it.
The breadth and depth of coursework gives you confidence in many different areas of business.
When you are an entrepreneur and CEO of your company, you're on your own. You have to make the decisions. When I am meeting with large retailers, I have to understand their business. Now, I can immediately grasp their balance sheets or what their accounting and financial challenges are. Understanding economics, finance, and marketing is really valuable for a person who has been an engineer all his life. Wharton complements that skill set.
The Bay Area is the center of the universe for entrepreneurship.
Since the program is in San Francisco, the specter of entrepreneurship lingers in the classroom. It's always an underlying theme, even if the class isn't entrepreneurial-focused. People are so interested in it. The students are always talking about it both in and out of class.
The resource pool because of our San Francisco base is unlimited.
You can reach out to anyone in venture capital in Silicon Valley, and pretty much they answer immediately. Either they are one hop away from a Wharton student, or they are visiting campus, giving a talk or participating in an entrepreneurial conference. The network you get to tap into is phenomenal; that can get you the first interaction—the rest is up to you.
If you want to maximize the output, expect it to be two very tough years.
If you want to breeze through classes and get Bs, that's fine, but if you want to get something valuable out of this, you will have to make a lot of compromises.
And don't expect to come in and immediately become a successful entrepreneur, if that is what you want. Wharton gives you the tools to be a successful entrepreneur. It's up to you to use them.
Previous Education: Delhi Institute of Technology, BE Computer Engineering; University of Texas at Austin, MS Computer Engineering
Previous Work History: Supply chain, retail, Amazon Services, Amazon.com; general manager, Marketplace Experience, eBay
Personal Information: Lives with his beautiful wife, Archana and son.
Interests/Hobbies: Cars, exploring new places to eat, biking and movies
Favorite Class: Managerial Economics
My commute: 1-hour Caltrain ride from south bay. Perfect time to catch up on readings and get ready for class.