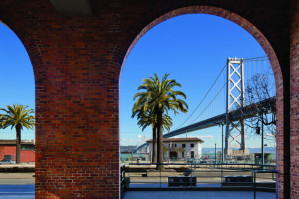 From the minute students arrive on campus in San Francisco or Philadelphia, their Wharton weekend is jam packed with classes and activities. Each weekend varies, but here is what a recent Wharton San Francisco weekend for first-year EMBA students looked like:
Welcome Back: Friday, 8:00am
While many students arrive on Thursday night, the official class weekend begins at 8:00am on Friday morning with a class breakfast on campus. Breakfast is a common time for speakers and workshops. On this weekend, students could participate in a Wharton Entrepreneurs Workshop titled, "LLC to C-Corp to B-Corp" with Davis Smith (WG'11 G'11), founder of Cotopaxi.
Hitting the Books: Friday, 9:30am-12:30pm
Students attend their morning class from 9:30-12:30. Split into two sections, students attend one of two core courses: Finance taught by Professor Andy Abel, who is co-author with Ben Bernanke and Dean Croushore of the seminal finance text, "Macroeconomics"; or Operations and Information Management (OPIM) taught by Adjunct Professor Ziv Katalan, Managing Director of Wharton Global Initiatives.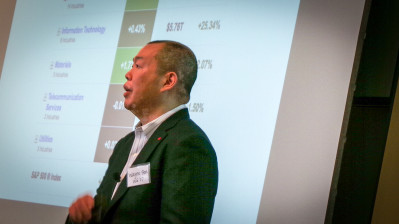 Refueling: Friday, 12:30-1:30pm
Students have lunch on campus together and hear a career services speaker, alumnus Wayne Pan, WG'07. Wayne is a physician, entrepreneur, executive, and adjunct professor.
Back to Work: Friday, 1:30-4:30; 4:45-6:45pm
In the afternoon, students attend either the Finance or OPIM class, depending on which section they are in. Then both groups meet together for more Finance for the late afternoon class.
A Night Out: Friday, 6:30-8:00; 8:00-10:15pm
A class dinner concludes the official part of the day, but a special event is offered for students to attend Cirque du Soleil under the Big Top at AT&T Park. Partners are welcome to attend this event.
Rise and Shine: Saturday, 7:30-9:00am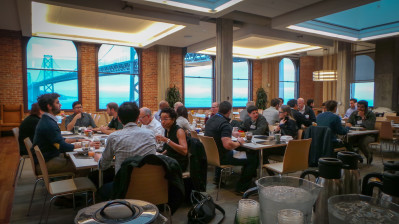 Students make their way back to campus from Le Meridien. Some make the quick walk along the Embarcadero while others take the courtesy shuttle. Breakfast runs from 7:30-9:00. During this time, the Investment Club and Toastmasters Club meet. A Big Data meeting is also held at 8:00 with speaker James Earle from the ALT School.
Class is in Session: Saturday, 9:00am-12:00pm
Students break into their sections and attend either Finance or Statistics.
Lunch with Faculty: Saturday, 12:00-1:00pm
During the class lunch on campus, students participate in an "Ask the Professor" session with Wharton Finance Prof. Andrew Abel.
Class Time: Saturday, 1:00-4:00pm
The afternoon classes are Finance and Statistics.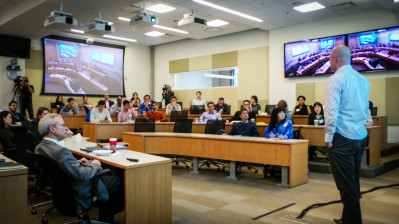 Wrapping Up: Saturday, 4:10
The Entrepreneurship Club holds a meeting with speaker Christopher Ategeka, founder of CA bikes, and students begin to head back home.
For more information on the student experience at Wharton, click here.