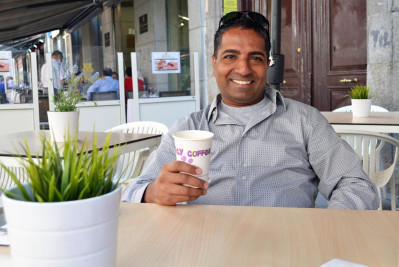 This year, second-year executive MBA students had four options for their International Trip: Indonesia, South Africa, Spain, and San Francisco. Raj Bharti, a student at Wharton | San Francisco and managing principal of Collaborate Consulting in Seattle, WA, said his international trip to Spain was "amazing." Having recently returned from the trip, we asked Raj tell us more about his travels to Barcelona and Madrid. Here is what he said:
I've gone on a few international trips with Wharton through the Global Modular Courses and the Wharton Leadership Ventures, and my motivation for each trip has been to learn about a completely new country and dive deeper into diverse and interesting subjects. For the mandatory International Trip, I chose Spain because of its overarching themes of tourism, gastronomy, and sports.
I had previously done an in-depth case study for a Marketing course on elBulli, one of Spain's top gastronomy restaurants founded by world-famous chef Ferran Adrià. That background intrigued me to meet Carme Ruscalleda, the world's only five-Michelin-starred female chef. As for sports, Spain is a leader in football (soccer) with FC Barcelona, aka Barça, and Real Madrid. Further, over €62B of the country's GDP comes from tourism, which is quite substantial. I was also eager to learn more about this hotspot for tapas, flamenco, and architecture.
The trip began in Barcelona where we met with the CEO of Barcelona Tourism and visited the Camp Nou, Barça football stadium. It was thought provoking to witness the impact that hosting the Olympics in 1992 has made on this city. We had conversations in small groups about possible U.S. cities' strategies going forward to win a bid to host the Olympics. If a tier-B American city can host the Olympics, it's a way to put that city on the world map and take it to the next level in terms of economic development.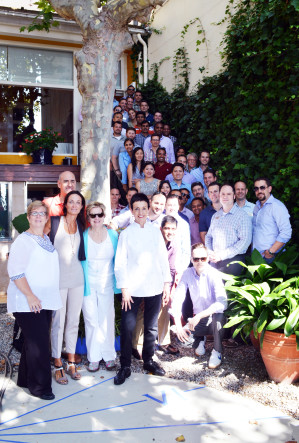 Another highlight from Barcelona was meeting the famous chef Carme Ruscalleda. She runs an exceptionally cozy restaurant outside of Barcelona with a five-month waitlist for reservations. Carme talked about how she collaborates with various organizations to build her international brand and she gave us advice for anti-aging: Eat fresh, eat local, eat organic, and choose a profession you love! To top it all, seeing Gaudi's remarkable work at the Sagrada Família, visiting the Santa Maria de Montserrat Abbey, and walking on stunning beaches added extra spice.
After taking the high-speed train to Madrid, we met with Wharton alumnus Enrique Peña, who is the chief of staff for the high-speed train. Enrique is changing the face of the nation by building a massive infrastructure, and he is a key member on the high-speed rail project in Saudi Arabia. We visited the central office and got to see the control rooms for the nationwide network.
Outside Madrid, we visited O. Fournier wines, a successful winery launched by José Manuel Ortega Gil-Fournier, a Wharton alumnus, and his passionate sister Natalia Ortega Gil-Fournier. Empirical evidence suggests that wineries do not make much money for at least a generation, but this duo has found great success at their home front in Spain and established even bigger operations in Argentina.
We also met with Secretary of State for Commerce Jaime García Legaz. That was an incredible visit because Wharton students asked some tough questions about bureaucracy, corruption and other challenges facing Spain. We appreciated the rarity of someone in his position being so forthright, welcoming, and engaging.
With 50 Wharton EMBA students on the trip from both coasts, another highpoint was meeting many of my East Coast peers. It was a huge benefit, especially since I'm spending the current semester in Philadelphia along with eight other San Francisco classmates. I was able to build many new relationships and even formed a team with two other classmates for an entrepreneurship elective.
During the trip, we had the advantage of having two Spain insiders with us: Prof. Mauro Guillén and Mireia Lizandra. Their loyalty to Real Madrid and Barça, respectively, created stimulating conversations and memorable moments. And Wharton EMBA staff members Bernie Birt and Cathy Molony did a great job charting out the trip and bringing both coasts together.
Overall, the Spain trip was amazing. I have taken some similarly structured trips to Japan and China through Wharton's Global Modular Courses, so I realize how valuable this type of immersive learning experience is. It gives students a broader exposure to different countries, cultures, lines of business, and opportunities to create and deepen relationships. Among many other things at Wharton, the Spain trip is a highlight of my EMBA program. My advice to other students is to take as many of these international trips as you can at Wharton and get out of your comfort zone. Adiós!
To read more about Raj's experience during the Global Modular Course in Japan, click here.