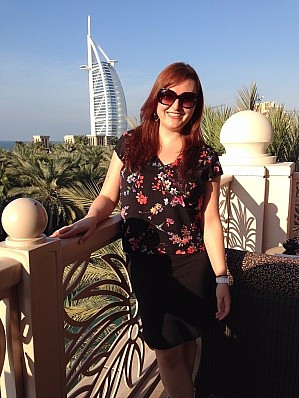 Global Modular Courses (GMC) are extremely popular among Wharton EMBA students not only for their deep dives into global business issues, but also for the ability to get to know students in other Wharton programs. Wharton San Francisco first-year student Jeni Incontro, solutions manager at Vitech Systems Group in Los Angeles, recently returned from a GMC in Dubai. We asked her to tell us about that experience. Here is what she said:
On choosing the Dubai GMC:
I was interested in this GMC because Dubai has put itself on the map in the last 10 years like no other city. It has grown quickly and prominently, developing niche markets like real estate finance and Islamic finance. I'm not in the finance sector so I saw the GMC as a chance to learn about an entirely new area. The GMCs are a good opportunity to expose yourself to a topic you otherwise wouldn't learn about – and spend time on the ground in a different country — and not use up your elective slots during the regular semester.
On networking:
I went on the GMC to Dubai with approximately 40 other students. They included undergraduate, full-time MBA, and executive MBA students from both coasts and both years. It was great to be in that mixed group so we could get to know each other and expand our network during the course.
On official visits:
The theme of the Dubai GMC was finance in the Middle East. The course lasted three days with each day including a lecture, discussion and panel followed by a site visit in the afternoon. We began in Dubai at the International Financial Center. It was interesting to learn how it began as a free zone based on British common law. We then attended a panel on finance across the value chain so we heard from people in private equity, growth funds, investment banks, and corporate finance. We talked about emerging trends in finance in the Middle East.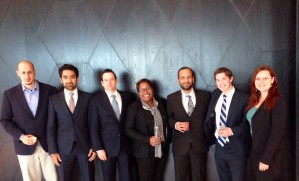 We also attended a panel about politics, where oil was at the top of everyone's minds. The speakers brought up issues like what happens if the king of Saudi Arabia becomes ill and the impact of rebel activities in Yemen. A few weeks later, the Saudi king died and newspapers reported that rebels in Yemen staged a coup. It was incredible to be able to put these events into context because of those discussions. In the afternoon, we went to the Burj Khalifa, which is the tallest building in the world, and met with the real estate developer who built the property.
On day two, we focused on Islamic finance and talked to the head of the Islamic Finance Division at HSBC. We also talked to a religious scholar about how Islamic funds differ from other types of funds and what it means to be compliant. We then went to the Port of Dubai where we met with an official from DP World, which operates the port. We toured the port and saw it from an operational perspective; it was fascinating.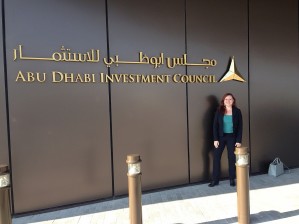 On the third day, we went to Abu Dhabi. We met with the Abu Dhabi Investment Council, which is a sovereign wealth fund that invests assets (mostly from oil). We talked about investment strategies and heard from the head of the Central Bank in Abu Dhabi about the economic environment in the region. Then we went to the majlis of the Crown Prince of Abu Dhabi – that was like going to the U.S. Senate. We talked to the chief of staff about a range of topics from population issues to education to diversification away from oil. Later, we went to Masdar City, a green tech research center that has the goal of being 100% emissions free.
On unofficial visits:
We also did a lot of fun things on the side like a desert safari ride the day before the course started. That was organized by an undergraduate student who grew up in Dubai. We also had two full-time MBA students from Dubai on the course and they organized some other cultural visits and tours. We went to the Grand Mosque in Abu Dhabi, which was stunningly beautiful. And we had group dinners each night.
On the value of the GMC:
WEMBA students are pretty well trained to absorb a lot of information quickly because of how the program is structured so we are well suited for the academic portion of the GMCs. We're naturally inclined to think about how we can apply what we're learning on a daily basis so it's an amazing opportunity to do that during a GMC where you get a perspective of how things work in other places.
The GMC is not about tourism. It's about talking to people on the ground who are leaders in their fields and willing to discuss the good, bad and the ugly. That is an incredible opportunity to learn as well as expand your connections outside of your normal network and industry.