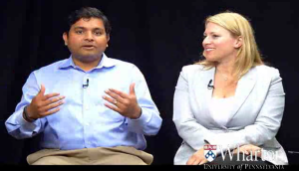 What kind of career impact will an executive MBA have? Is it worth the investment of time and money? What's it really like to be an EMBA student at Wharton? Since these are important questions for prospective students, we recently held a TGIWF (Thank Goodness Its Wharton Friday) webinar on the topic of the program experience. Panelists included second-year east coast EMBA students Niranjan Haridass, a consulting practice manager at Oracle, and Kelley McKee, a portfolio manager for Delaware Investments. The following is a sampling from the webinar. Watch the full discussion. (Requires Flash Plugin)
Career Impact… So Far
Niranjan: I wasn't sure how much impact the first-year courses would have, but the knowledge from those core classes has transformed the way I look at things. I think like an entrepreneur about everything that comes across my desk.
Kelley: Before coming to Wharton, I had a finance background and earned a CFA. However, in the CFA program, you input in to get output, but you aren't focused on the why. The Wharton EMBA program makes me evaluate why I do things. You can get in a groove in terms of this is how  you do something, but Wharton makes you reevaluate your thought process about how you look at investments and incorporate strategy. There have been many tangible benefits despite already having a core finance background.
Favorite Courses
Niranjan: Our Strategy course included human resources and how you manage people. It was very helpful to go through the concepts and learn how people management theories evolved. That made a big impact and it was only two months into the program.
Kelley: The Marketing classes surprised me the most. I had taken some Marketing classes as an undergraduate and didn't think very much of them so I wasn't really looking forward to taking them in the core at Wharton. But they were fantastic. I took so much away from them.
Selecting Electives
Kelley: There are some technical courses you take because of your job, but there are also courses that might be new areas for you and opportunities to try something different. For me, I don't manage people, but I might like to in the future so I'm taking some management and leadership courses.
Campus Residency Requirement
Kelley: It seemed a little ridiculous at first because I live very close to campus. But after the second night on campus, I was so happy to be here because that is the time you get to really engage with classmates and meet people who aren't in your learning team or your regional proximity. It really helps solidify relationships.
Niranjan: You don't get the same type of bond with your classmates if you go home after classes each day. It makes your investment complete when you stay over. Also, families can still come to campus with you for family events. Mine is coming for Aquarium Night tomorrow.
What to Expect the First Year
Kelley: All students go through an adjustment phase. Even though you're taking the least amount of credits in the first term, it's very challenging to get back into school mode and figure out how much work you need to do and then learn how to work efficiently. After three months, I was exhausted and not sure how I'd keep up that pace for two years. But you find your groove and it becomes smoother sailing.
Niranjan: Everyone says that the program is a lot of work and that is not a lie. But by the second semester, my productivity increased a lot in school, at work and with my family. It's day and night after the first semester.
Hours Spent Studying
Niranjan: It depends on how many credits you're taking, but I usually say 20 hours.
Kelley: I would say 15 to 20 hours a week. On Sundays after Wharton weekends, I do nothing and just decompress. The hours vary from week to week.
Taking Courses at the San Francisco Campus
Kelley: I am looking into some courses in San Francisco in the spring. I would love to see what our West Coast classmates are experiencing. You can't take everything and sometimes there are two courses you want, but they're offered at the same time. A solution might be to take one of them on the other coast. A few of my classmates have already done that and some San Francisco students are coming here for electives. It's more travel, but it's feasible and is encouraged by the administration.
To watch the full TGIWF Webinar, click here
To read a related blog by Niranjan Haridass on career impact, click here.