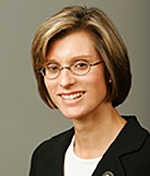 Deciding to apply to Wharton's executive MBA program is a big decision for everyone, but there are often some special considerations for female applicants. How will she juggle work, kids and school? Does being a student mean putting off having kids? Will there be many other women in the program? How does the program support women? We asked Vice Dean Peggy Bishop Lane some of those questions. Here is what she said:
Are there challenges that are unique to women in the EMBA program?
Our average age tends to be 34. To be qualified for admission, you need to be smart and successful, which also means you're busy. We know that all parents – moms and dads — have to decide when is the best time to do this program in regards to their children's development, but it can be an extra consideration when a woman is considering starting a family. We consider ourselves lucky to share in the joy when a baby is born in our program. It's more common for students' families to expand during this time than you may think. We usually see 15-20 kids born in an EMBA class during the two years, and many times it's the student who is giving birth.
Women may face different kinds of challenges in getting support at home and work. It requires women to have a strong voice for their goals. Clearly, they need to have a strong voice to have achieved enough to be qualified for the program, but seeking out and holding onto support from bosses, colleagues and — to a lesser extent — significant others can test a woman's resolve and fortitude. Going through the process will reinforce or strengthen this character trait.
We see our female and male students solidify that quality through classes like Negotiations and Leadership, as well as our newly developed executive coaching program. Many candidates, regardless of gender, face support issues; however, the issues and the resolution of those issues can play out differently for women and we try to address those head on.
How can women manage those support issues in the EMBA program?
It's definitely important to have a support system in place. This is true for everyone, male or female, parent or not. But if there are kids involved, you need to work out the care via your spouse, other family, professional nanny, or whatever works for you. Often, it's the most challenging logistical consideration. However, especially when organized in advance, it can be a great long-term solution for life after the degree as well as during the program.
What advice do you give women juggling families and work in the EMBA program?
I recommend connecting with women in the same situation. You can find them in your class, doing other degree programs, or through our alumnae, with whom we can connect you. These women will share tips and be a source of encouragement. Don't do it alone! Also, class managers want to help in any way they can. We're happy to make accommodations for nursing mothers and visiting families. And make sure to bring the whole gang to Family Night, which is one of our favorite events, with jugglers, face painters, and more. In addition, the Partners Group will often plan local family events outside of school weekends and can be a source of additional support.
Is that advice unique for moms or does it apply to all female applicants?
It applies to all women, who are more apt to find or create support groups. When it comes to support groups, men "typically" have less of a need or interest. Otherwise, unless it's someone experiencing birth themselves, there's no difference in the advice we give women. A recent example of how our women have come together is the occasional "Women's Dinner" held on a Thursday or Friday evening. It is especially fun, and productive, when the Philadelphia and San Francisco women are together!
Is Wharton trying to increase the number of women in its EMBA program? How so?
Always! We do this by asking our female students and alumnae to share their stories with prospective students. We host webinars and hold in-person events targeting females. But it's the success of women in and after the program and how they've used their Wharton education, brand, and network to pursue their goals that is our biggest selling point for women.
What is the percentage of women in Wharton's EMBA program?
We see a range, anywhere from 15%-30% in a given year.
Why is diversity important in an EMBA program?
A big part of the learning is among the students, so the more variety in the voices we can get in a class, the better. Diversity brings different perspectives, influences, and values, which add significantly to the learning for everyone.
For women who might be considering applying to our program, what should they know about how the EMBA program can impact their career?
The career impact is immediate and you'll reap the benefits over a lifetime. Obviously, you will gain knowledge that you can begin to apply on the job immediately. But over time this new found knowledge and the confidence that comes with it can propel you to heights you might not have even considered. Further, having the Wharton brand behind you will open doors to opportunities far and wide. It's exciting for us in the program to witness the transformations of our students and alumni.
To read another blog with Vice Dean Lane, click here.