Roger Crandall, chairman, president and CEO of MassMutual, graduated from Wharton's East Coast executive MBA program in 2002. During an interview on Sirius XM radio show "Leadership in Action," Roger Crandall talks leadership with Professor Mike Useem. The following are edited excerpts from the show:
Learning from Crises
I started at MassMutual in 1988 in the Real Estate Investment Department during the commercial real estate crisis. When you start in a business with serious problems, you learn a tremendous amount. I was doing foreclosures two years into my career and deciding what assets to hold for the long term and which to dispose of quickly. That experience of how to deal with adversity was very valuable.
A Big Learning Moment
A big learning moment for me came when MassMutual asked if I wanted to go to Wharton to get an MBA while working full time. That first semester at Wharton, I tried to do everything in my job and at school. I managed to survive, but not to thrive. My study group was ragged and tired at the end of the semester. We saw that we needed to divide and conquer to get through the program. As a result, I ended up working less and getting better grades. I did much better when I realized that I didn't need to do everything myself. You need to build a good team and then rely on and trust your team. I learned that at Wharton and it was a very valuable lesson.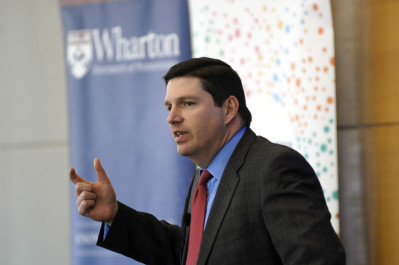 On Becoming a CEO
Throughout your whole career you have a boss, but when you become a CEO, you suddenly have a board with a dozen bosses. That came as a bit of a shock. That's a very real-world challenge for any president and CEO. I did two things that paid great dividends. First, I talked to all the living, retired CEOS about the company and challenges they faced. I also met with some new CEOs of companies in different industries and asked what their biggest challenges were when they became CEO. That was valuable and reinforced the need to have a team to depend on and trust.
Getting Out of the Office
I spend a good 40 to 50% of the time out of my office. It's dangerous for senior executives to think they know what is going on by reading the paper and talking on the phone. They need to get out there. When I am in the office, I talk to frontline employees. We are active now in reengineering what we do to put the customer first and become more efficient. The Toyota Method and Kaizen have been big in manufacturing for a long time, but it's become important for us so I try to get out there and see different parts of the business.
It Begins with a Huddle
We use the MassMutual Way, which is a lean management system that begins with a huddle. We block off a time every morning when everyone can do to their huddle to understand what happened the day before, the work plan for the day, and what is working and what needs attention. We have tiers of huddles. My executive leadership team has a weekly huddle. The idea is to get everyone aligned.
Leadership Development and Training
It's important to give managers the training and tools to allow them to do their job better and understand that good leadership requires different skills than being a rock star individual contributor. If you don't, you're setting up a lot of folks for challenges and that works its way through to engagement. Investing in leadership development and training can pay off significantly over the long term, but it's the easiest thing to cut. I'm proud that we expanded our leadership development and training in 2008 when a lot of people were cutting it, and it's paying off in spades now.
Subscribe to Wharton Business Radio on SiriusXM Channel 111 to hear this and other great interviews with other business luminaries.